Color Guide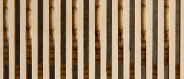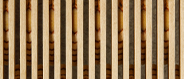 Wave
Quieting the chaos, Wave will make a splash in any space. Wood ripples along the wall in this powerhouse acoustic system designed by Bernd Benninghoff. Dukta Flexible Wood available in Baltic Birch Plywood in Natural or Finished covers a highly-effective acoustic box. This acoustic system is comprised of modular panels in varied sizes that assemble in one standard configuration.
Designer Bernd Benninghoff Design
Content Flexible Wood + Akustika 10 Substrate
Modules Sizes Varies
Thickness 3/4–4 in (1.9–10 cm)
Note: Z-Clips add 3/16 in (0.95 cm) to thickness
Wood Types Baltic Birch Plywood
Finish Natural or Finished
Wood Open Area 20–40%
Weight Varies
Durability Contract or residential
Maintenance Dust regularly. Spot clean with cloth dampened with water only.
Lead Time Made to order and certain lead times will apply
Installation All panels come preinstalled with Z-Clip fasteners that mount in a standard grid. The Z-Clips provided are 6 ft (1.8 m) in length and can be cut to fit according to site requirements. Spinneybeck offers installation services; however, application is basic and can be provided by a reputable general contractor. Additional blocking at installation site may be required.
Custom Custom sizes must be quoted
Variation Wood is a natural material and minor changes in color are evidence of the 100% natural origin of the material. Please note that Finished Wood Type may have a more pronounced grain.
Bernd Benninghoff
Bernd Benninghoff works as furniture designer and interior architect based in Mainz, Germany. Since 2000, his design studio has developed serial furniture as well as room and exhibition concepts for international clients. For Bernd, objects and spatial context are interrelated. It is important for him to use authentic materials and appropriate manufacturing processes—in search of meaningful design solutions and room experiences with an independent character.
Acoustics ASTM C 423: NRC – 0.50, SAA – 0.51
Flammability Test reports available upon request
Part of the MillerKnoll collective