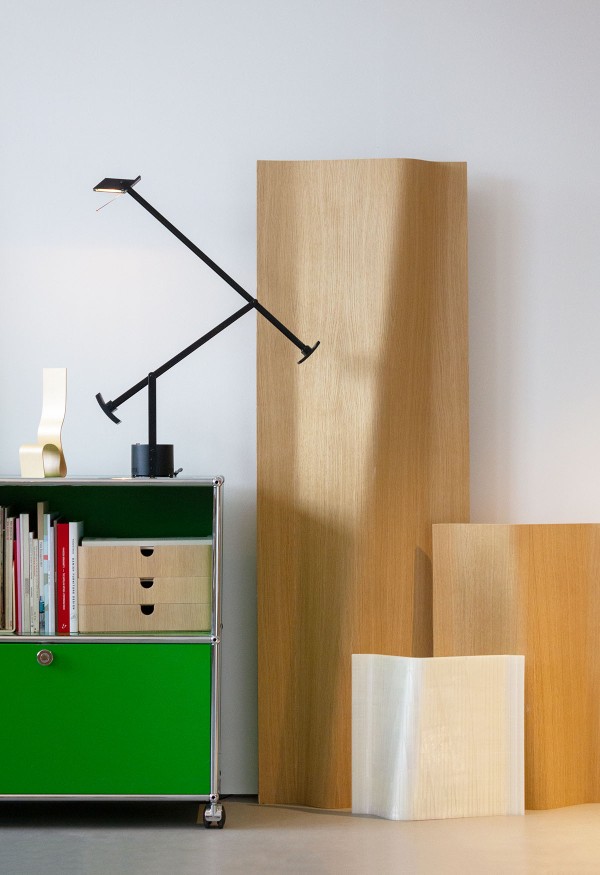 Behind the Design
The Softwood Collection
The practice of bending plywood dates back to the 19th century, during the Industrial Revolution, a time when design was deeply rooted in technology and innovation. Plywood evolved out of an inherent need for materials that could hold up to new industrial methods and therefore became as significant to the era as the technology itself. New manufacturing processes meant significantly less reliance on or demand for traditional, handmade practices. Instead, this seismic shift saw a move toward assembly lines and steam-powered technology that supported massive factories. Building materials, therefore, needed to stand up to machinery, not hands, that required standardization, consistency, and perhaps most significantly, efficiency to meet the demands of a mass market.
Plywood had a significant role in meeting these demands because the material itself is a modern innovation. Constructed from layers of wood veneer and adhesive, plywood is a composite material whose strength comes from the binding and cross-graining of layers. The grain of each sheet runs perpendicular to the layer above and below, resulting in unmatched strength and resilience. The layering, adhering, and alternating grain allow plywood to perform and hold up to modern manufacturing processes in ways solid wood simply cannot.
During the mid-1900s, plywood's popularity among architects and furniture designers surged. Charles and Ray Eames and others among the era's most iconic designers found unbelievable promise in this remarkable material. Moreover, the interest in and demand for plywood grew as designers were seeking to bring natural materials into everyday life on a larger, mass-produced scale. There's a reason that plywood has stood the test of time in the interior and furniture design worlds. Simplicity and versatility combined with the material's natural warmth have given plywood an enduring appeal. "Plywood, unlike synthetic plastics, is a modern material with a past." It's a material that continues to captivate designers today, and Norwegian designer and Spinneybeck collaborator Lars Beller Fjetland is no exception.
Inspired by the work of the mid-century design giants combined with elements of his Nordic upbringing, Lars developed a series of designs that combine two unique and strikingly different perspectives while honoring the longevity and inherent beauty of molded plywood. While these products take inspiration from the past's innovative manufacturing process, they are made using a twenty-first century proprietary forming technique that's the biggest technological innovation to molded plywood since the 1960s.
Design and technology come together in a collection of formed wood wall systems that combine the natural material's warmth and strength, all with a mid-century-inspired twist. Core to Lars' work is the philosophy that products should be designed in ways that achieve a sense of both timelessness and longevity through an immediate, honest functionalism in form and aesthetic, and Pleat, Quilt, and Twist do just that.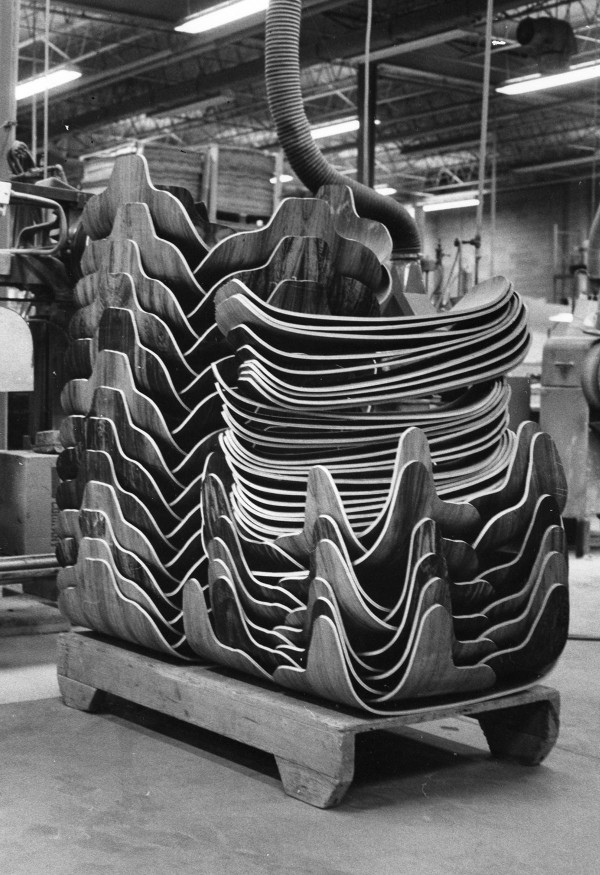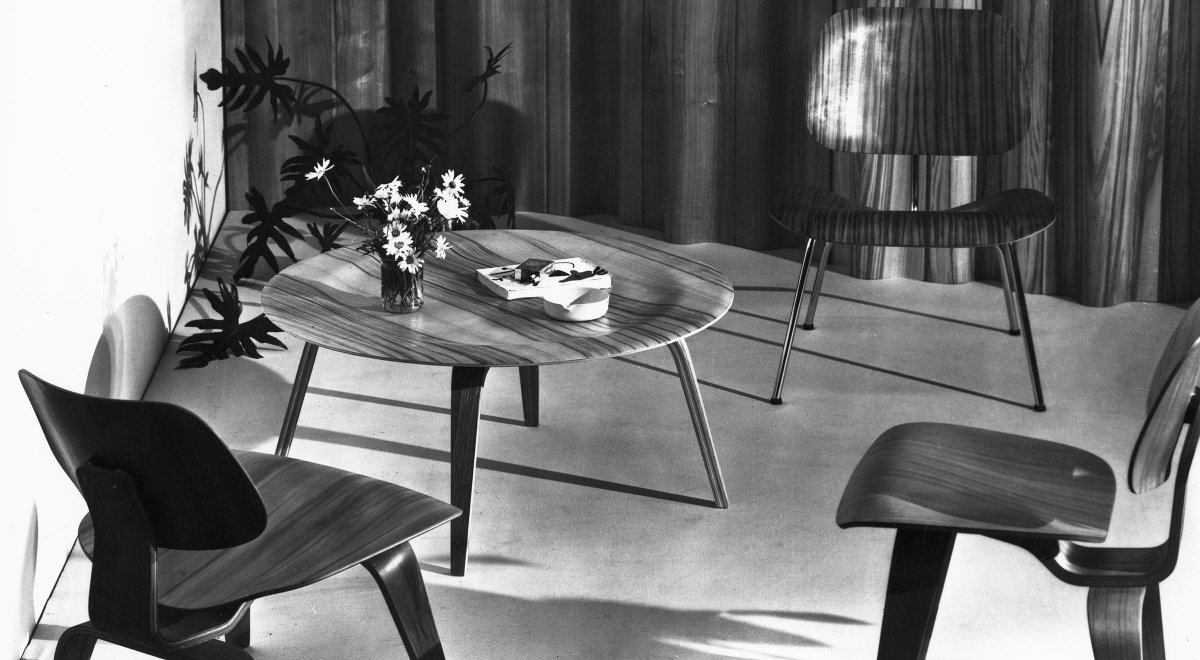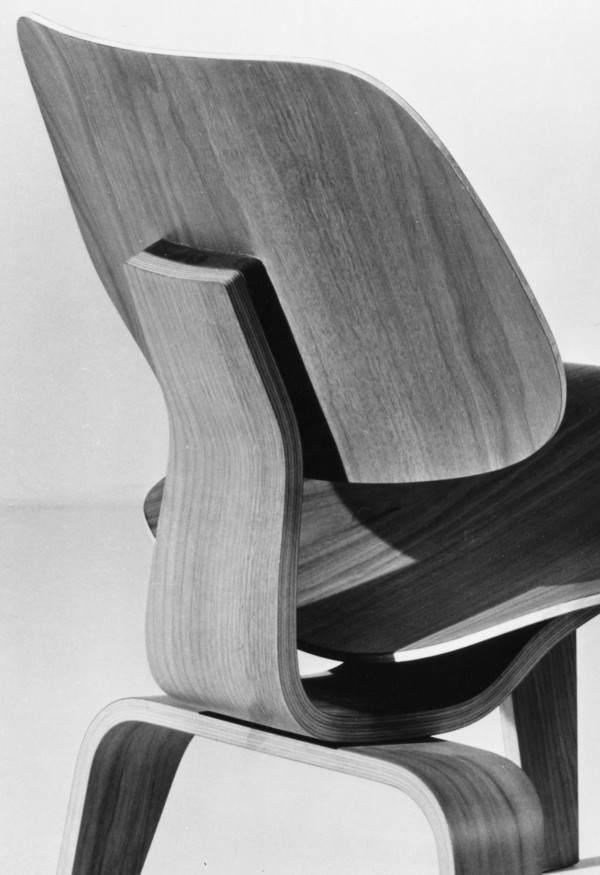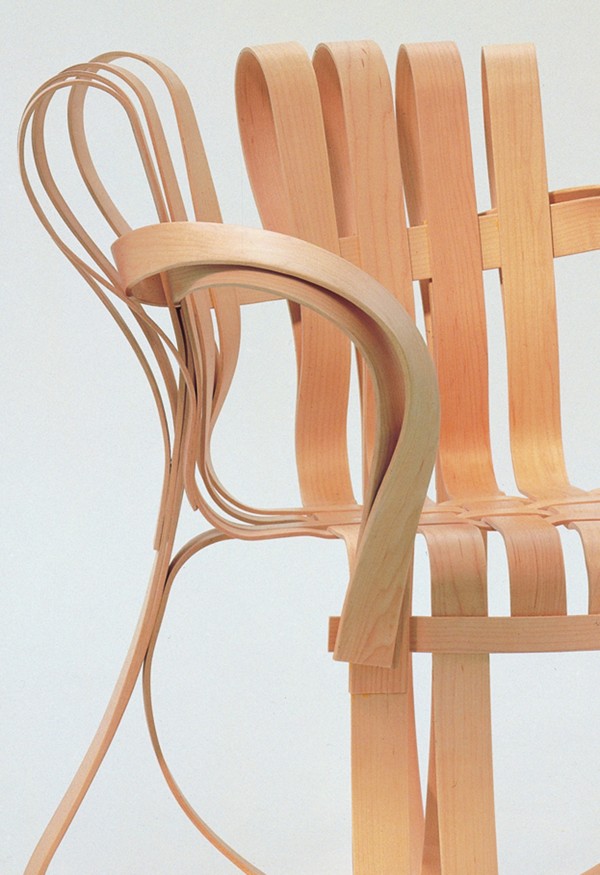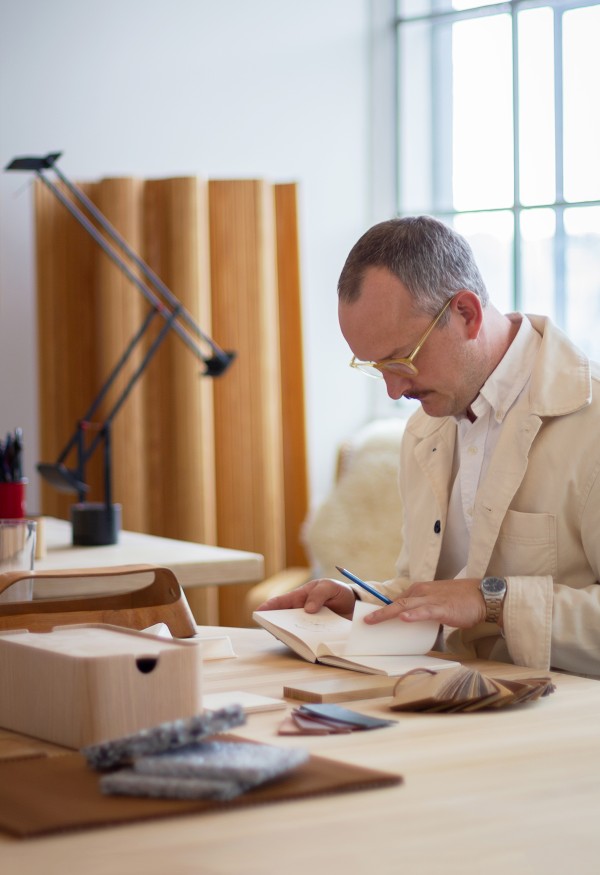 Bending wood is a centuries-old practice with a variety of techniques and methods. Can you tell us a little about your fascination and experience with this practice?
The iconic steam-bent Thonet cafe chair represents the birth of serial-produced furniture, so any designer with an interest in design history will have a soft spot for this production technique. The process of permanently bending, manipulating, and forming wood never ceases to amaze me.
I'm excited to see other like-minded designers and communities eager to push the limits of what's achievable in wood by utilizing new technology and clever innovations. It's essential work, as we need to maintain and attract focus on what is unarguably the most sustainable material option to date: wood.
I'm reminded of a quote from Peter Reed (MoMA) from the 2020 Aalto documentary: "It is not materials that are either modern or not modern; it is how you use them. It is the approach that is modern."
I have played around with various lamination techniques in the past, but this is the first time that I have moved away from traditional methods and into uncharted territory, not unlike the process I had when developing the patented snap-on solution for the the Lisboa and Porto cork tile systems.
Can you tell us a bit about the inspiration behind the collection?
The main inspiration behind the Softwood Collection stems from my recent fascination with the soft and calming characteristics of draped, folded, and suspended fabrics—an aesthetic that offers something warm, gentle, safe, and comforting. I found the idea of replicating these exact qualities in a material commonly perceived as static immensely intriguing.
The way textiles can completely change the ambiance of a room is truly amazing. It is not just about the acoustic qualities. To me, it's also about form. When fluid lines break up straight lines, a space can feel more like nature—establishing a balance between the static and the non-static.
The most challenging part of the project was finding a suitable natural material that would allow me to come up with a production process that was both commercial while, at the same time, and perhaps most importantly, could replicate the textures and characteristics of woven fabrics.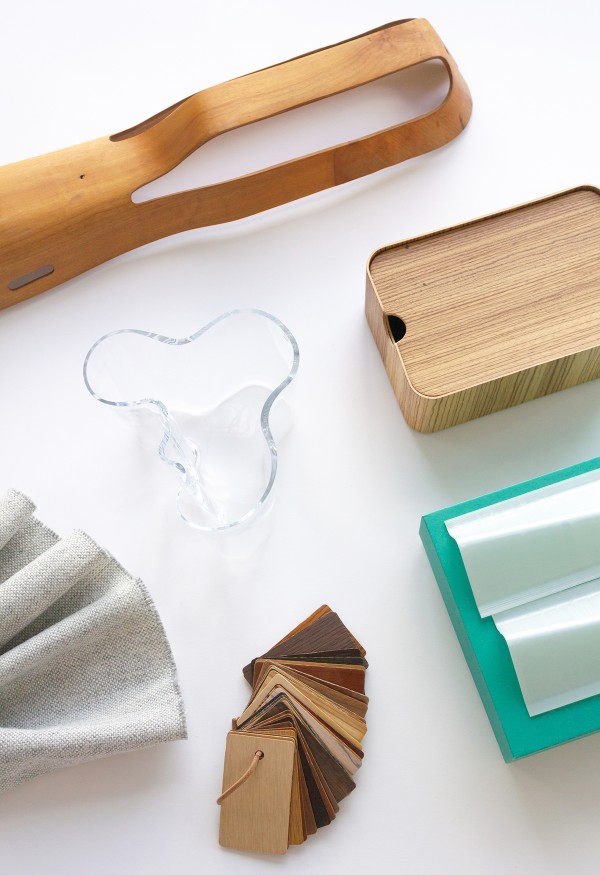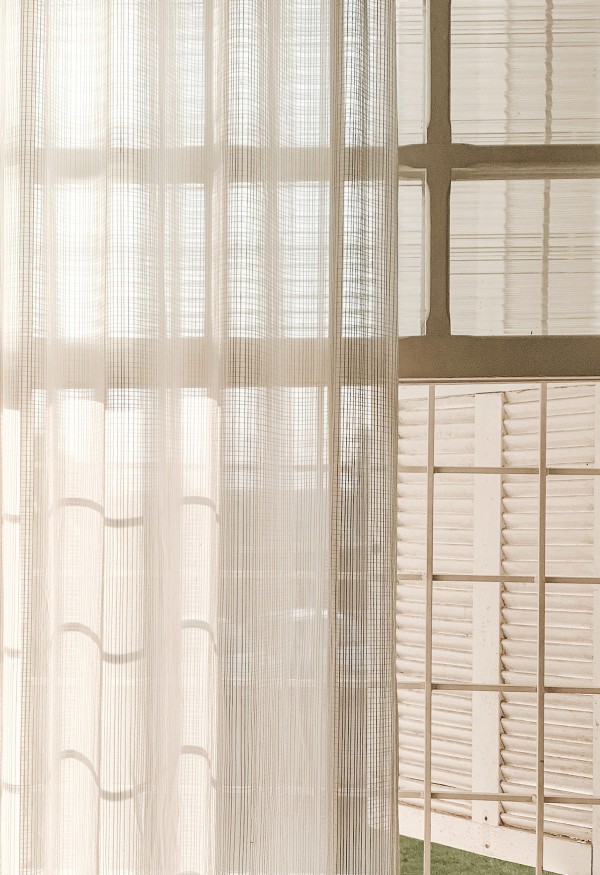 "The way textiles can completely change the ambiance of a room is truly amazing. It is not just about the acoustic qualities. To me, it's also about form. When fluid lines break up straight lines, a space can feel more like nature—establishing a balance between the static and the non-static."
The pursuit of making something seemingly flat feel organic brought to mind the leg splints that Charles and Ray Eames developed for the U.S. Navy. It stands to me as one of the most iconic and innovative designs in modern times. Working with traditional molded plywood, they had to push the material to its limit to perform in a way no one thought possible.
This mentality and drive to innovate propelled me to dive deep into new material technology, which quickly yielded results.
In 2017, I stumbled across a new technology for producing and forming plywood which I immediately knew could be the perfect match for the concept. The material's unique traits would allow me to push it beyond conventional limits, twisting, bending, and deforming it. In addition, this technology made it possible to give the material the soft features I was looking for.
The technology requires no liquid glue, making it far more sustainable and easy to work with than conventional lamination techniques. In addition, there is no need for additional machining/post-processing after the pressing, which results in less waste and a cost-efficient production process. In sum, what would have been an expensive, out-of-reach product can now be serially produced and brought to market for everyone to enjoy.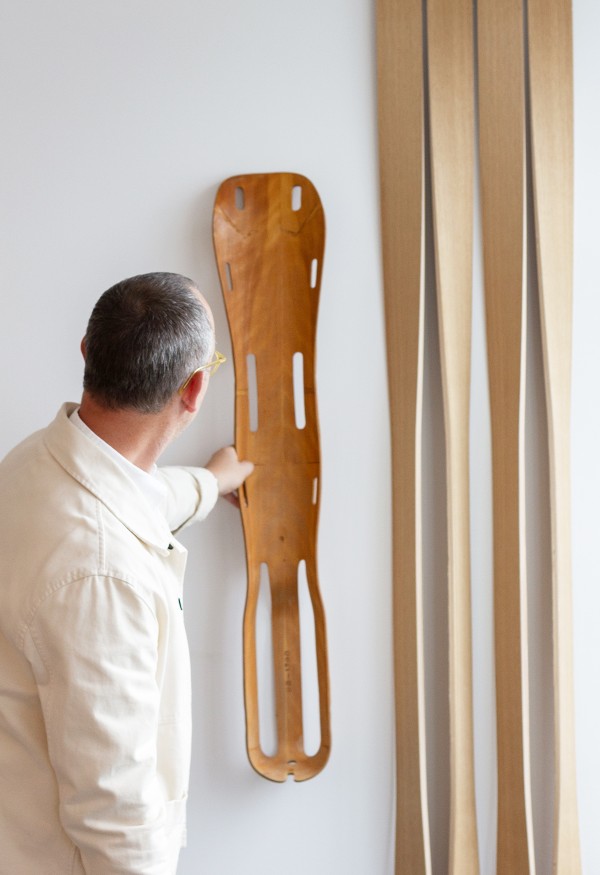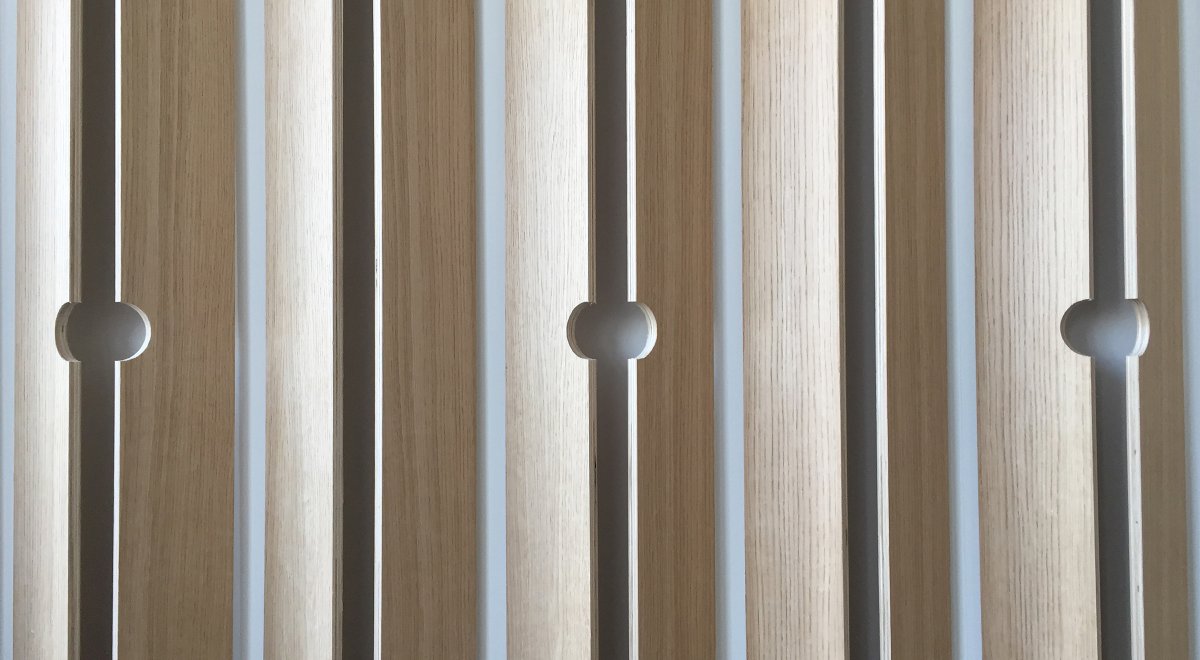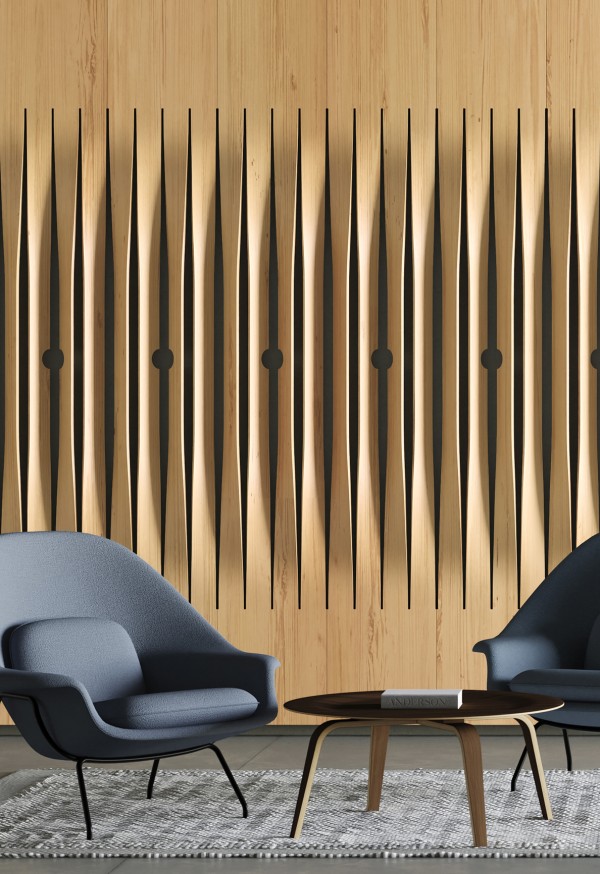 Each of these designs is incredibly unique. Can you walk us through the evolution of each?
The first design I developed was the Twist panel. With Twist, I wanted to explore new ground for what could be achieved in wood. The wood is both stretched and twisted to create an almost impossible form that I associate with hanging curtains. The engineers were initially shaking their heads, but to everyone's surprise, it worked.
The propeller-like form allows sounds to travel into an optional acoustic backing material, an ideal solution for noise reduction. But, to me, Twist and Quilt are just as much sculptures on their own, and serve as testaments that wood, an ancient material, can still be an innovative one.
The iconic form makes the panel geometrically stable, a fantastic feature that allows you to secure it to the wall with minimal hardware. I love the idea that the form keeps adding to the function. I think that we are going to see architects using these panels in all kinds of creative ways. All you need is a saw and a bit of creativity.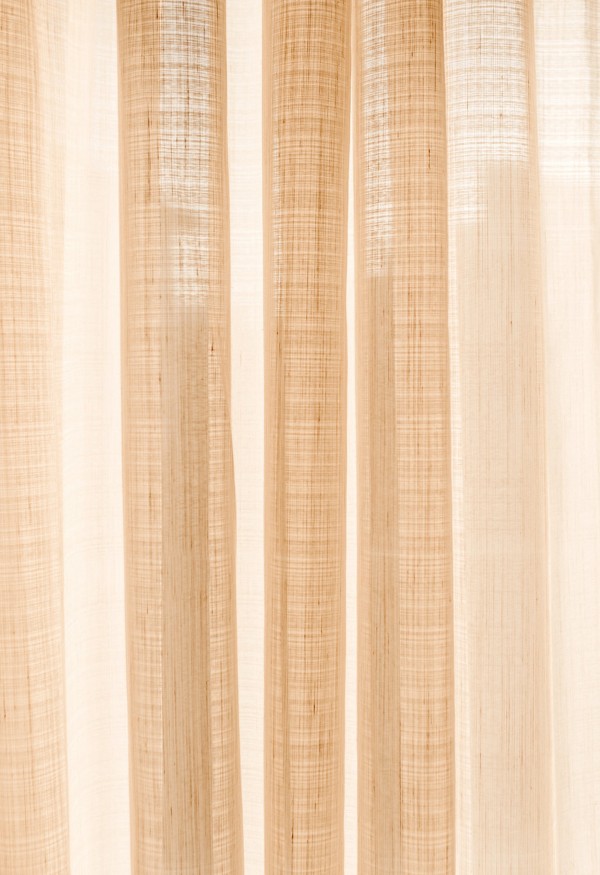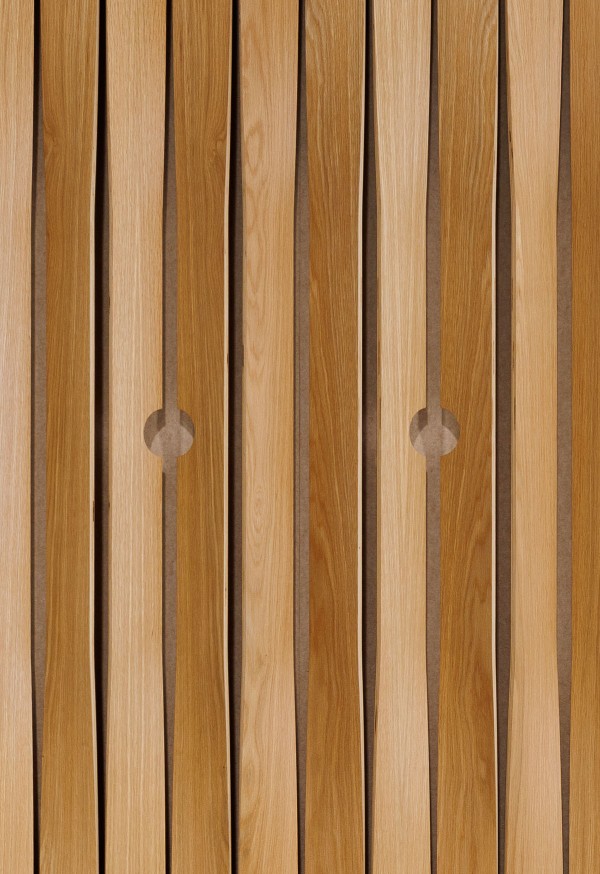 Quilt, as the name implies, draws inspiration from quilted fabrics. The same pillow-like effect of thick quilts gives the panels a soft and welcoming aesthetic. The modular patterns echo the work of Erwin Hauer and other modernist sculptors and architects with a modern twist.
The clover-like panels can easily be turned into any sized installation and backed with acoustic material for sound absorption. The sound enters the substrate through the precisely cut slits in the panels.
I really want to encourage architects to be playful and courageous with this design. Mix veneers, suspend them from the ceiling, install a back-light, or treat them as individual sculptures.
You mentioned that these designs are very mid-century inspired while you envision them in contemporary spaces. How did you approach designing the collection with this in mind?
My designs are usually quite minimalistic and material driven. I have found that this approach has led to objects that are more or less timeless and adaptable, working both across time and space. I let the material dictate what the product wants to be and hold back on gimmicks. This way, I end up with a functional product that is inherently logical but at the same time pure and refined. With the material taking the lead, the rest comes easy.
There might be one particular source of inspiration for each pattern, but there are always other influences and references that inform the final design. I'm never designing in a vacuum. I have to be able to view my work in a historical design context where I'm aware of both the past and the present.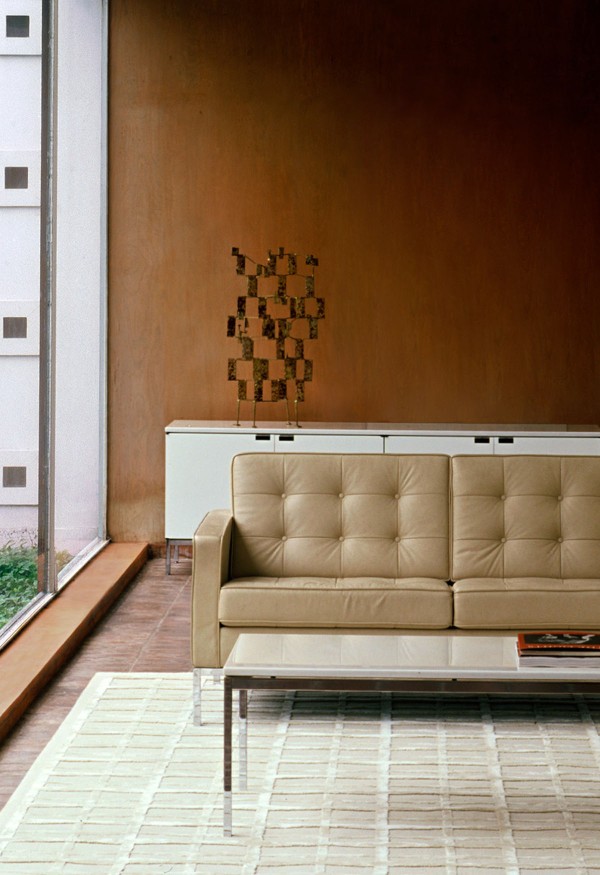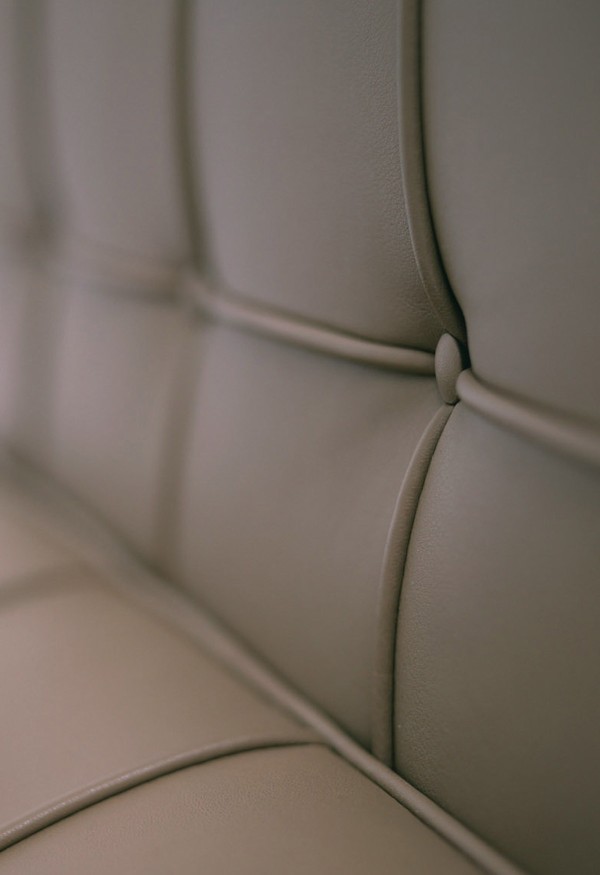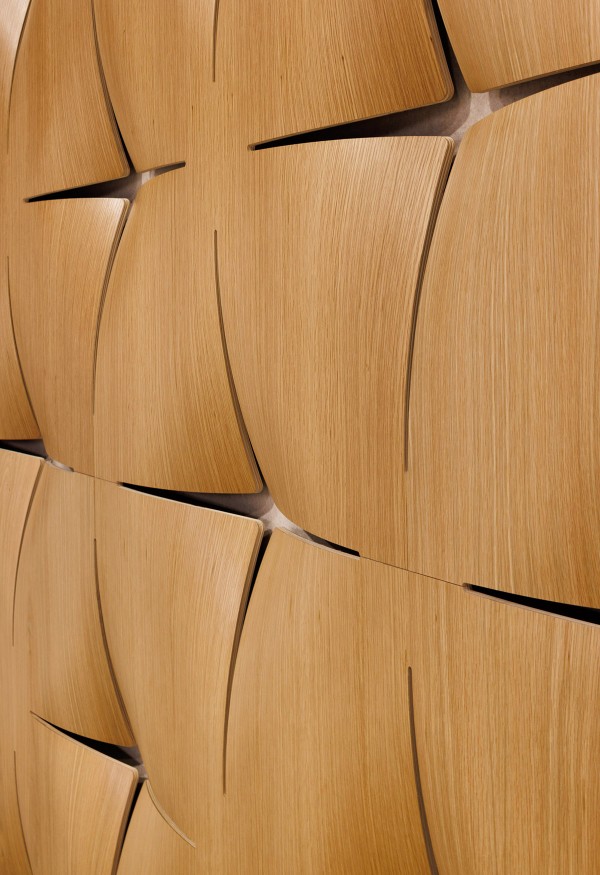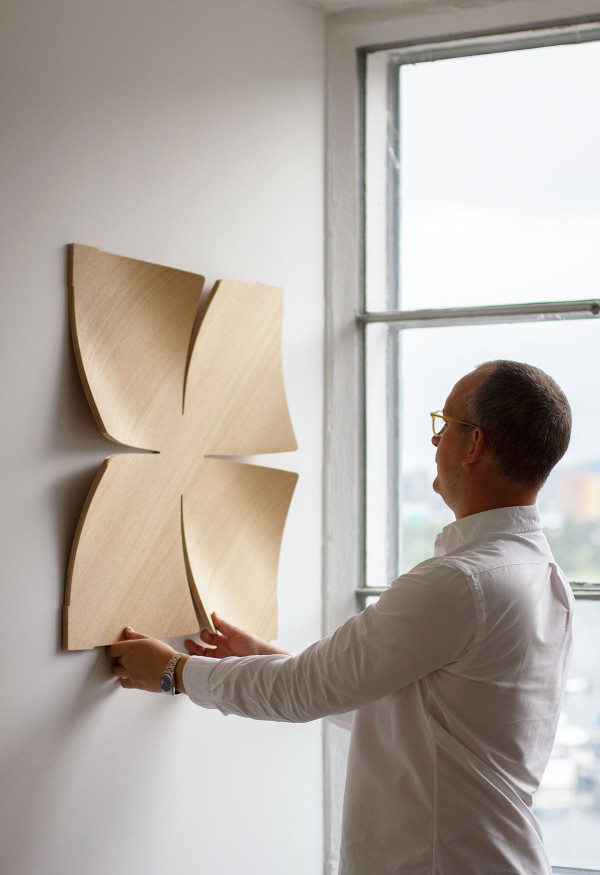 "To me, Quilt and Twist are just as much sculptures on their own, and serve as testaments that wood, an ancient material, can still be an innovative one."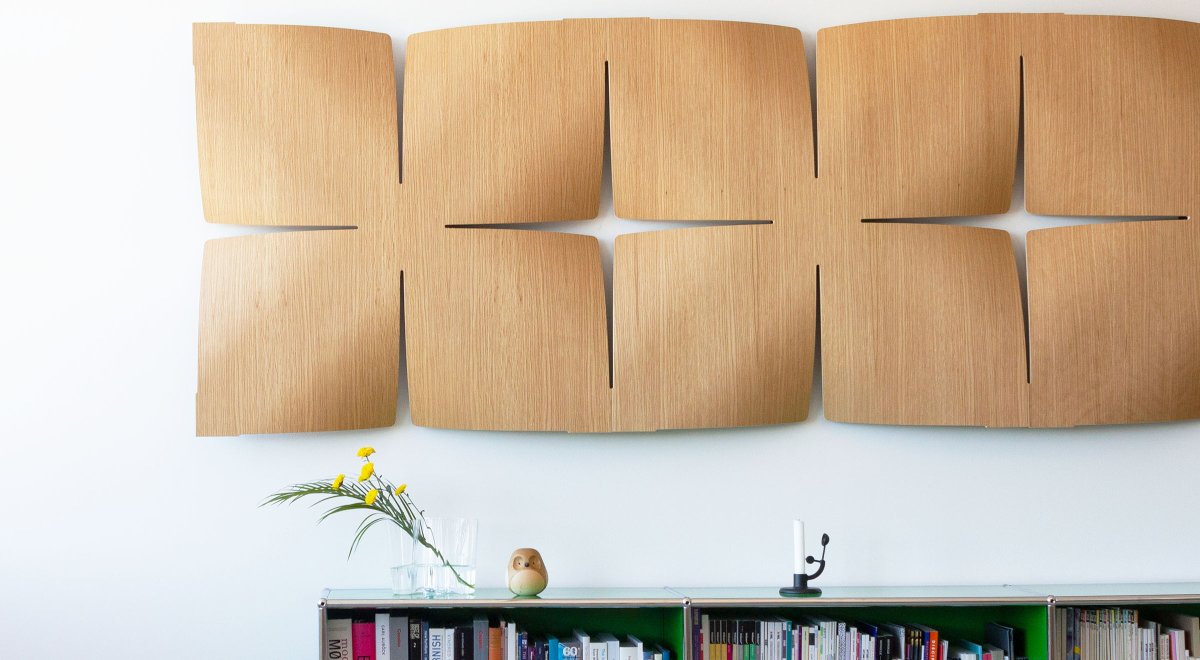 The Pleat panels came to life after I studied different ways of creating pinched and draped curtains. It is a really unique effect that becomes quite powerful scaled up. But, the real magic of the Pleat design is revealed when you combine panels to the left and right to create more extensive patterns of elongated diamonds. This pattern, in particular, has an apparent reference back to mid-century graphic design on a scale that makes it contemporary.
The Pleat design is perfect for bigger installations and in areas with a lot of foot traffic.
In 2016, your designs for Porto and Lisboa introduced cork to the Spinneybeck brand's array of natural materials. This year, you tackle wood. Can you tell us a bit about your experience with this material and how you approached these designs in a new material with Spinneybeck?
Wood was the "gateway material" for my continued obsession with design and craftsmanship. It is relatively easy to process and acquire, and a lot of information about wood is available online. You can really create something unique in wood, even with the simplest of tools, as long as you have a good idea, patience, and determination.
I have worked with wood on numerous projects before, but I always seem to learn something new about the material. The wide variety of wood species offers just as many physical and aesthetic properties. For instance, birchwood, traditionally used for plywood, is strong and flexible, making it ideal for bending and forming.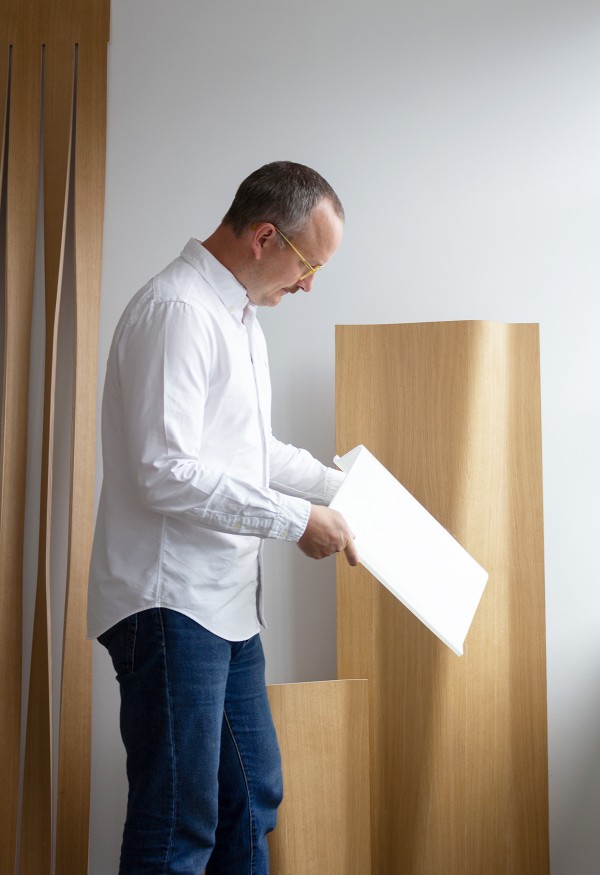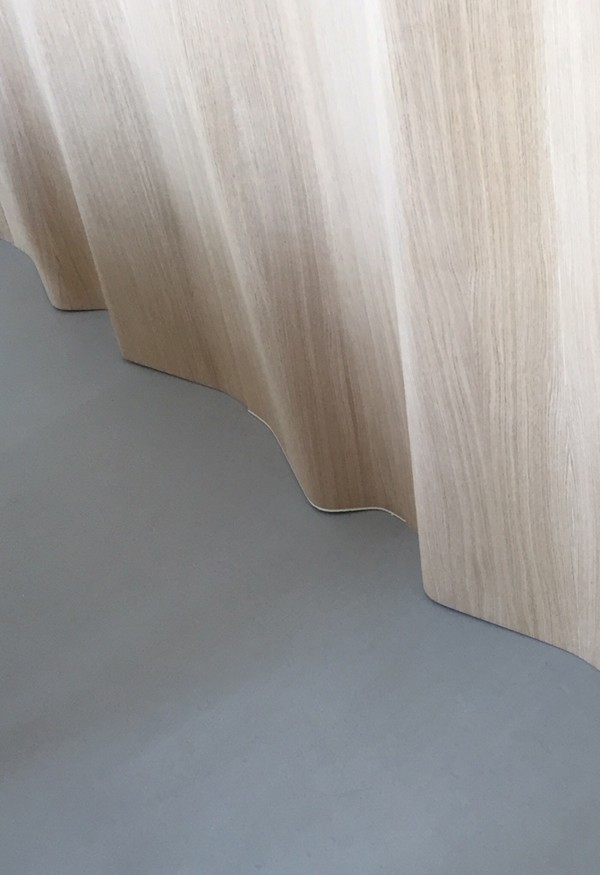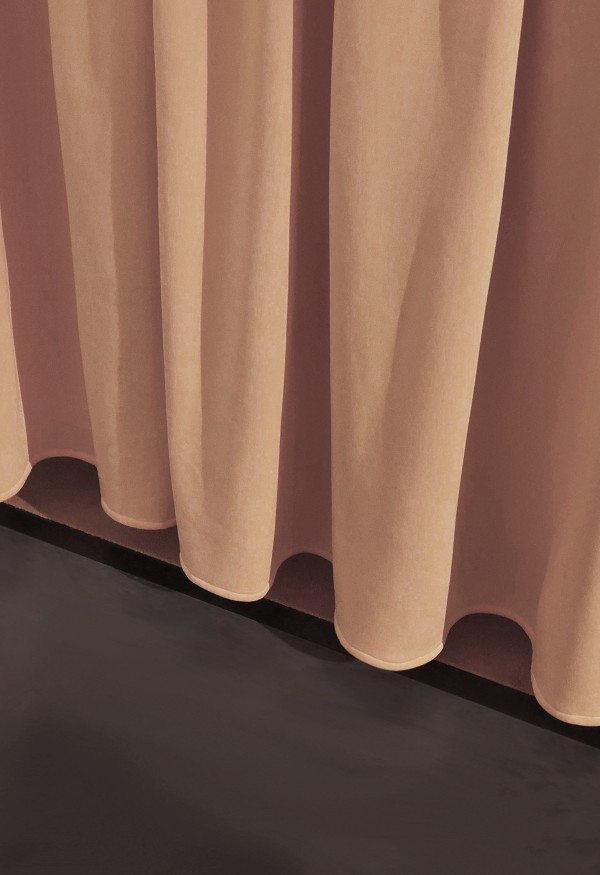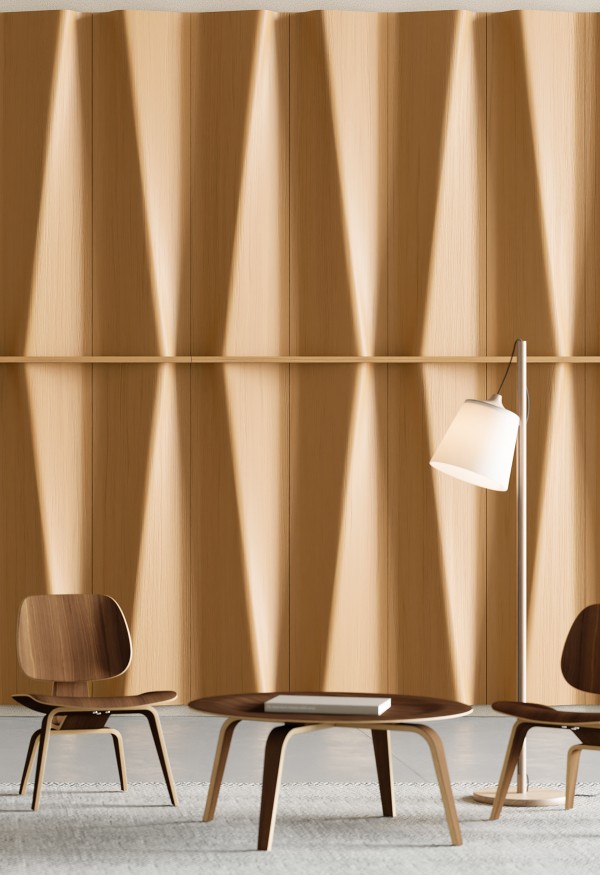 What challenges did you face working with wood?
During the process of developing the Softwood Collection, I became increasingly aware of how the different veneer patterns affected the overall design. Unfortunately, not all veneers are suitable for the different patterns, so we had to come up with a selection of suggested wood species.
Wood is a natural material, and it isn't always easy to predict how it will behave and how far you can push it before it breaks. We found that the only way to be sure was to build all the necessary tools and do some actual testing. Working with the material directly and applying the technology to each type is the only way you will know whether something works.
What are the advantages that wood brings to designing products like this?
Wood is warm, tactile, beautiful, timeless, easy to work with, durable, and most importantly, sustainable. I mean, what more can you really ask for?
Are you currently working with any other natural materials? Are there any you're curious about or would like to work with in the future?
I'm actually about to embark on a new adventure exploring the world of aluminum. It's such a fascinating material, and I've been curious about it for a while now. I was recently presented with a once-in-a-lifetime opportunity to collaborate with one of the biggest aluminum suppliers in the world.
I can't reveal specific details about what we're working on, but hopefully, I will be able to share it with the world sometime in the not-so-distant future!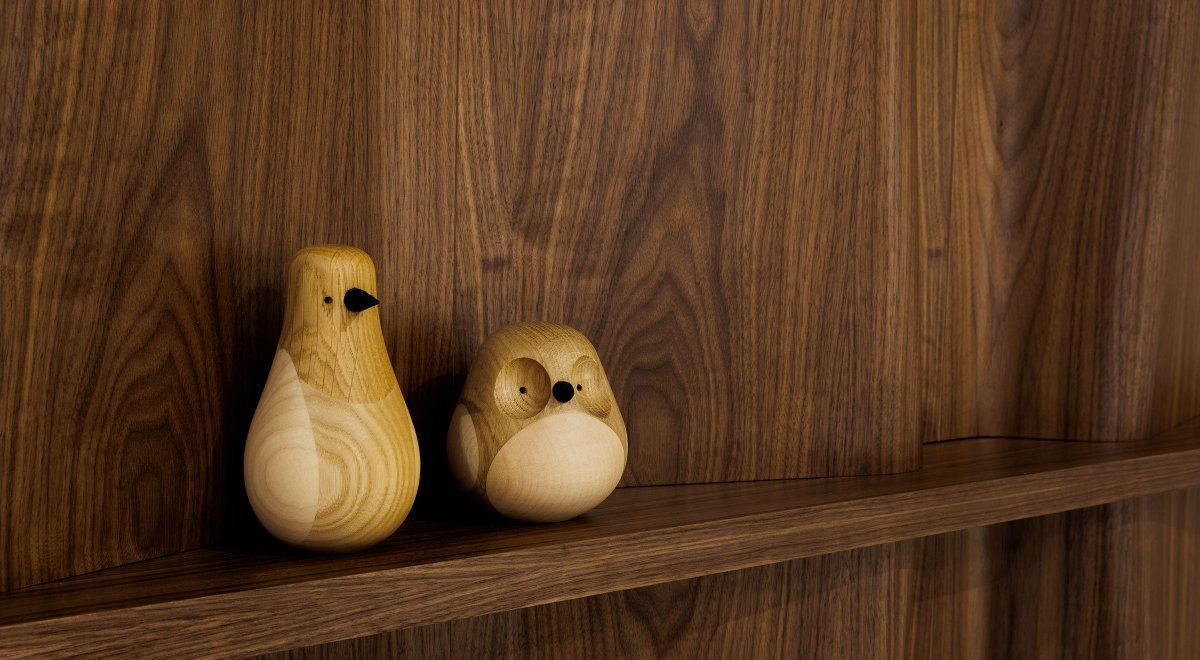 About Lars Beller Fjetland
Emboldened by elements of his Nordic upbringing, Lars Beller Fjetland has fostered a deep appreciation and discernment for the natural world and its contribution to design.
He believes it is a designer's mission to create objects that are enduring and will appeal to generations to come. Both curious and pragmatic, he strives to underscore the inherent qualities of natural materials – functional, sustainable, and innately beautiful.
The multi-award winning designer focuses on developing long term collaborations with international brands such as L.Ercolani, HEM, HAY, Spinneybeck, Architectmade and Bottega Ghianda.