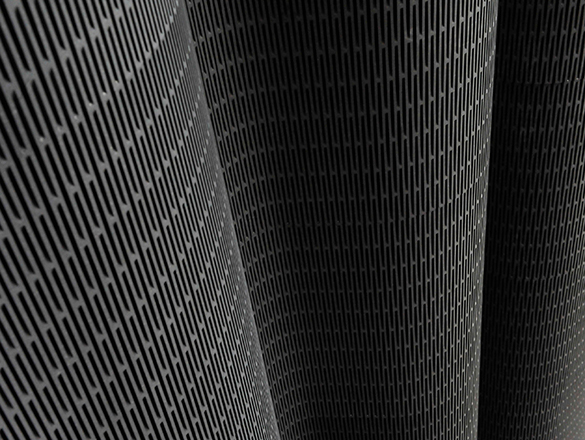 Behind the Design
Flexible Wood
Dukta's patented incision process makes wood and engineered wood flexible. A series of complex incisions allow textile-like properties plus create transparency and sound absorbing properties unexpected from wood products. These innovative products adapt to a wide range of applications including wall and ceiling panels, free-standing screens, and acoustic installations.
We sat down with Serge and Pablo Lunin of Dukta to chat more about the inspiration and process behind their work.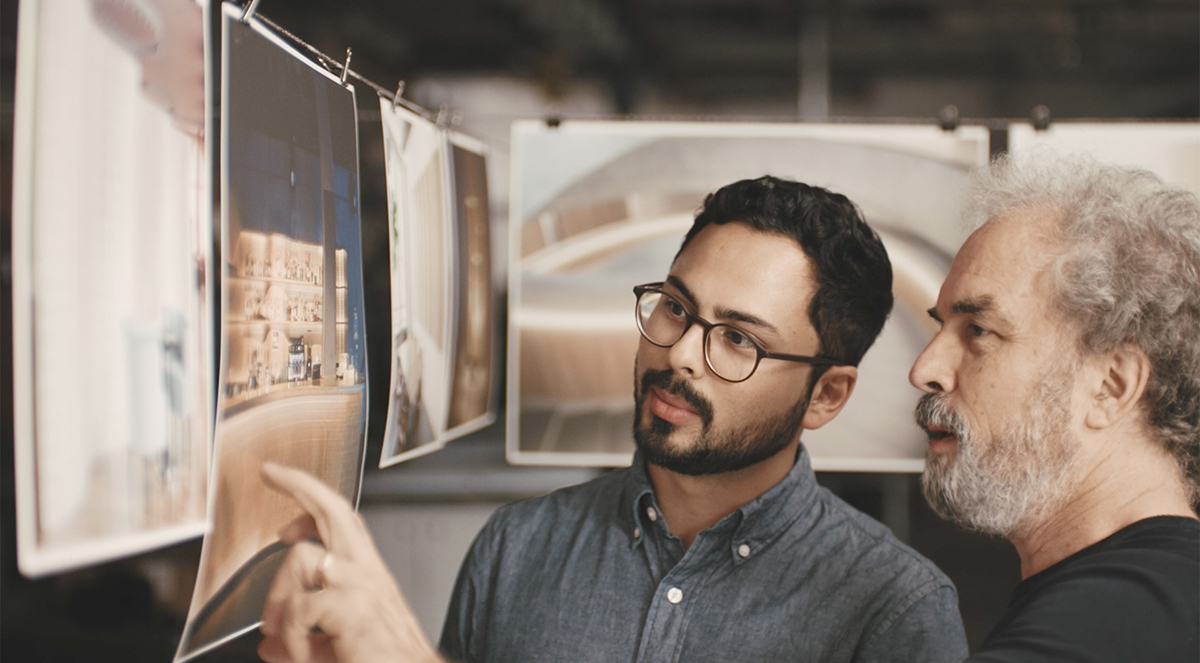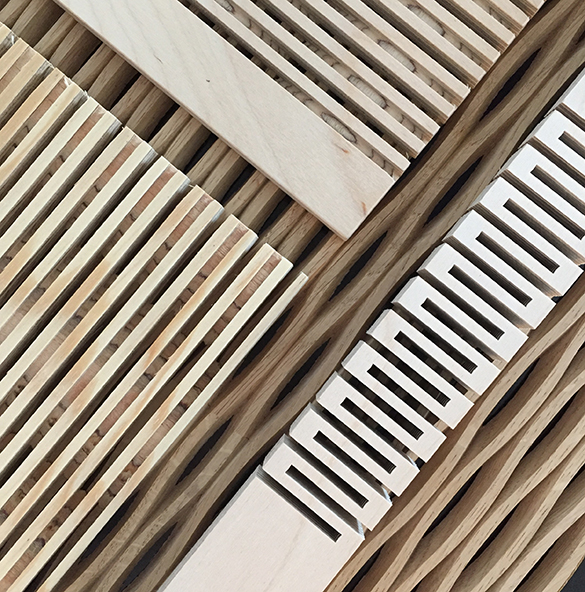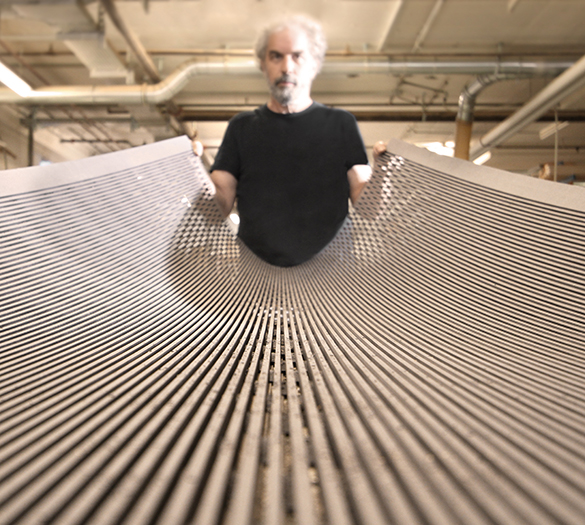 Where do you look for inspiration when starting a new project?
On the one hand, we look at the material itself by testing and stressing its functional abilities, its structures and compositions. Patterns, shapes and movements in geometry and nature can therefore be a great source of inspiration. On the other hand, thinking about possible applications, we look at the context and its functional and esthetical requirements and start researching from there.
What inspired this design specifically?
The original experiments incising wood where inspired by the wish to build an ergonomically shaped lounger out of wood. At the time, gluing and pressing veneer layers or steam bending wood in such dimensions were not an option. Through intuitive experimenting with manually incised wooden parts the astonishing effect of flexibility was detected. Shortly after testing possible applications, its fantastic acoustic properties showed, especially when applied in undulating shapes.
Can you walk us through the evolution of this project?
It all started with a workshop taught by Serge in the year 2006 at the Zurich University of the Arts. Christian Kuhn, one of Serge's students at the time, wanted to build a lounger made from curved wood elements. Looking for alternatives to the common bending techniques, like steam bending or gluing veneer layers together, they carried out numerous experiments, which showed that certain arrangements of incisions give the wood a great deal of flexibility without weakening it too much. Triggered by the potential applications the flexible wood might allow, they strived to elaborate the technique. In 2009 the team successfully launched a state-supported Innovation project, with the partnership of two universities, allowing to further research on systematization of the technique and professionally evaluate its acoustic properties. In 2011 the dukta GmbH was founded with the aim of developing a range of products ready for the market using plywood, MDF, and three-layer boards. A first series of incised wood boards were produced that met both acoustical and aesthetical needs. dukta applied for an international patent and hence followed the strategy to build licensing contracts with international partner companies that produce and distribute the dukta flexible wood panels.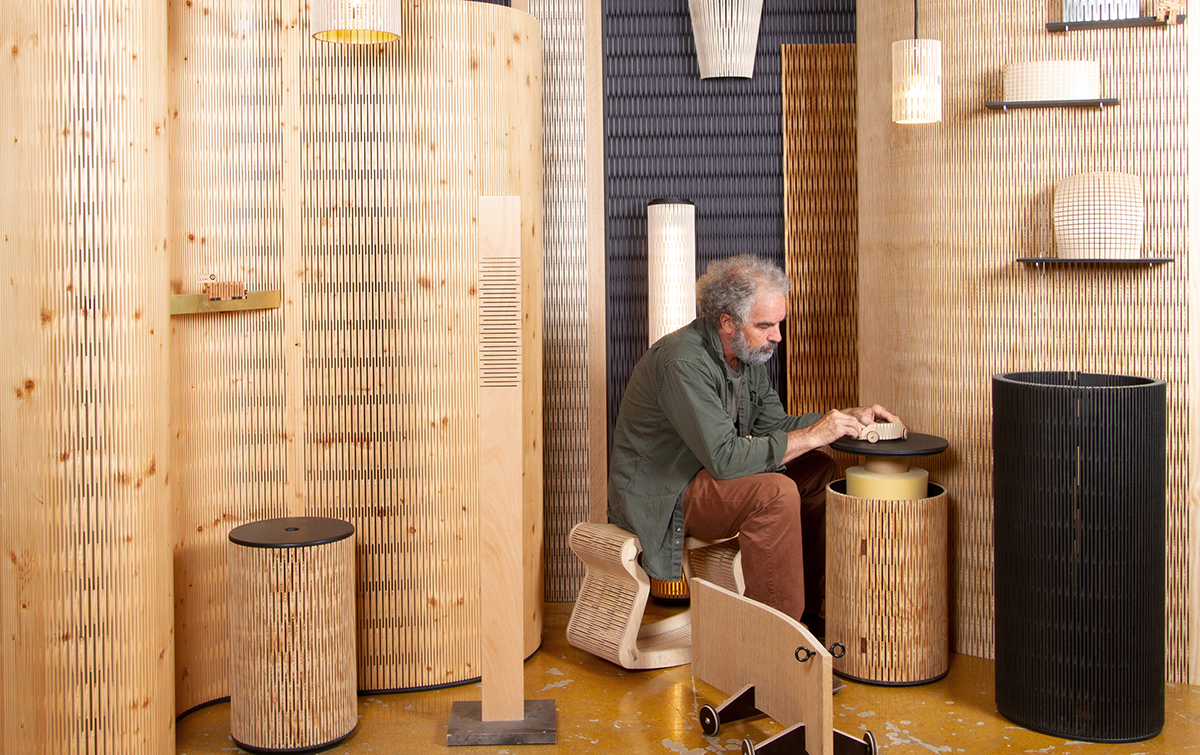 Are there any iterations you can share that didn't work but led to the final product?
There were many iterations that didn't work. We tested several cutting techniques and incision patterns on many different sheet materials, wood-based and others. The quality of the sourced wooden sheets as well as the optimal cutting tools and settings is crucial to reach a high-quality result. The ratio between material thickness, incision length, incision width and the distance in between define the flexibility, respectively the stability.
How do you power though the process when what you're trying simply isn't working?
Our initial approach is often trial and error. It may sometimes not be the most efficient way, but it gives us a lot of new insights and leads us in new and unexpected directions. We try to narrow down these leads and ideas and define their potential by cross-checking the essential criteria. Production cost, as one of the main factors, especially in a county like Switzerland, often means to reduce, simplify and focus to the very core.
What does wood bring to your work that other materials simply couldn't?
Wood is a natural and renewable material that is very well suited for spacial applications. It is hard but has natural flexibility through its fibrous structure. Processed into sheets, it gains a great amount of stability and rigidity. The incision pattern allows the wooden sheet to gain back some of its original flexibility in one axis and keep its full stability in the other. It also multiplies the surface of the organic material, which can have a positive effect on the room climate.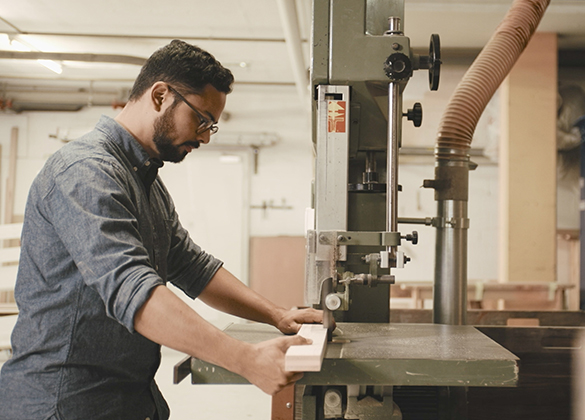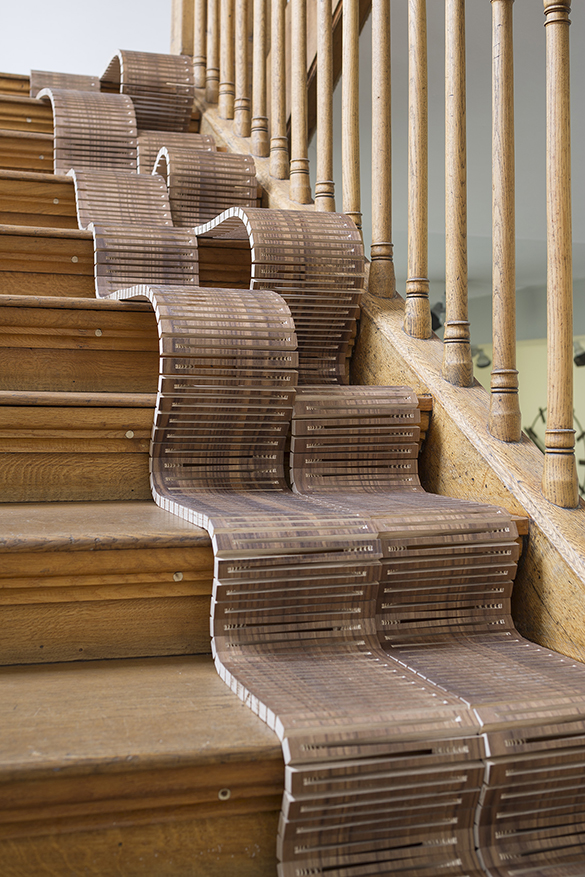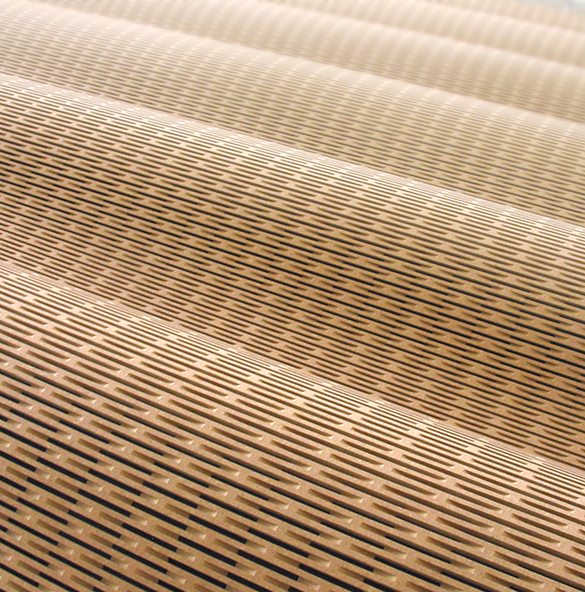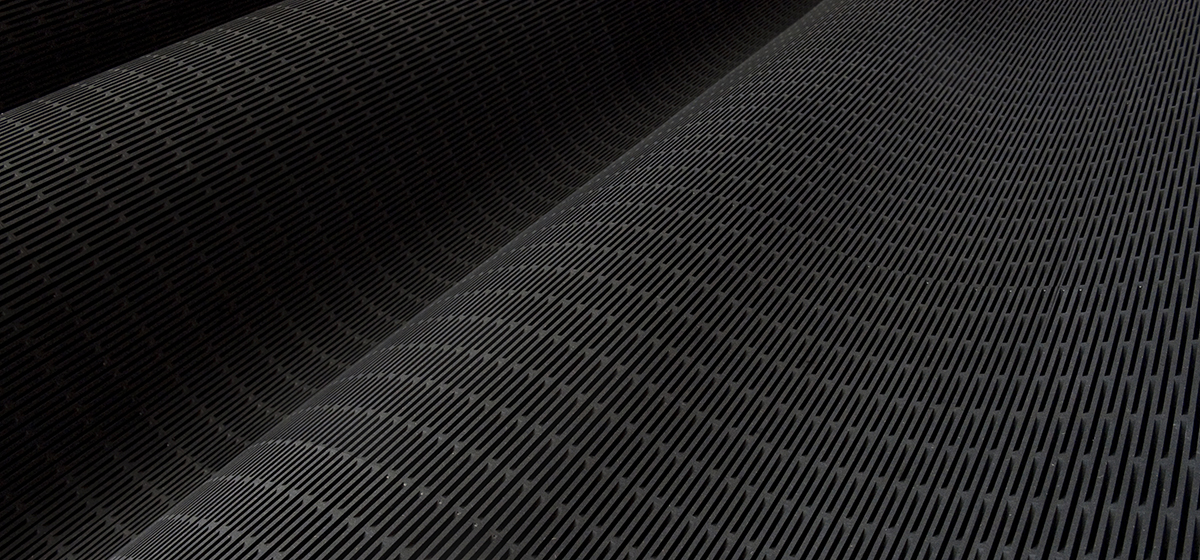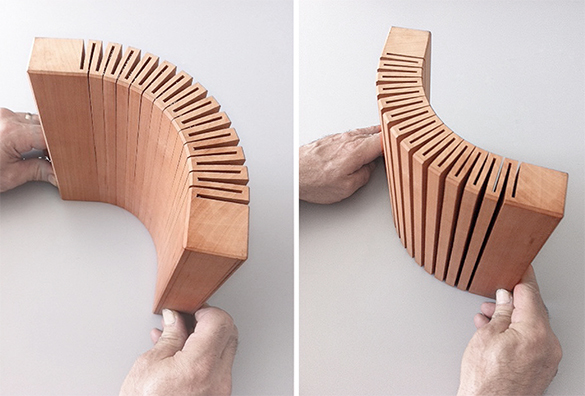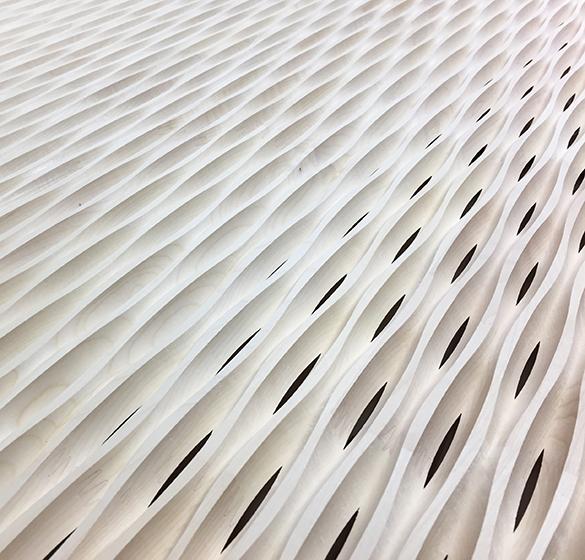 When you approach a new design, where do you start? (sketching, working directly with the material, digital rendering, etc.)
Designing a new application, mostly there are a few rough sketches at the beginning. Depending on size and complexity, models out of cardboard or directly out of wood follow to evaluate proportions and structure. Mostly we use digital modeling and rendering to visualize different versions and scenarios as well as for technical drawings.
From start to finish, how long did it take to get to the final design we see today?
The development of the incision technique didn't go all straight. The first two years, it was Serge and Christian worked weekends at the workshop. From there it was another three years until the technique was ready for efficient mass production. Up until today, we constantly improve and seek to expand the technique in different directions.
What feelings do you want this design (and your work in general) to elicit?
As the developers of a machining process, turning wood-based materials flexible, we want to open new ways and possibilities for wooden panels to be used. We strive to merge their exceptional functional abilities with a distinctive, honest and elegant appearance. Flexibility, transparency and lightness are not only functional but also esthetical and emotional attributes applying to dukta flexible wood. Even today, it's still amazing for us to see, the way the incisions allow the wood to bend without breaking.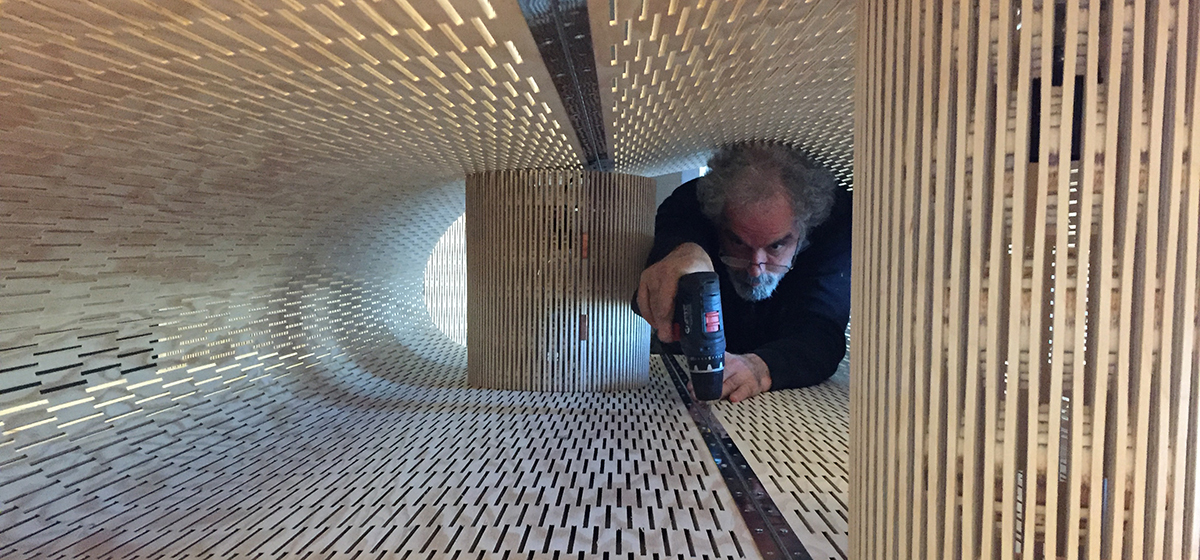 Meet Serge and Pablo Lunin of Dukta
Based in Zürich, Switzerland, Dukta has its roots in wood bending experiments. During a training course led by Serge Lunin in 2007, Christian Kuhn had the idea to create a lounger made from curved wooden elements. Together they tested alternatives, including steam bending and gluing layers together but found that certain arrangements of incisions gave the wood a great deal of flexibility. Together with the Institute for Design and Technology at the ZHdK, the architecture, wood, and construction departments at Bern University, as well as Schreinerei Schneider AG in Pratteln, Serge and Christian started an eighteen-month CTI research project to explore the possibilities of flexible wood.
From these humble beginnings, Dukta was founded in 2011. Now headed by the father and son team of Serge and Pablo Lunin, Dukta works with licensed partners throughout the world. The company won numerous design awards, including Interior Design's Best of Year in 2015.