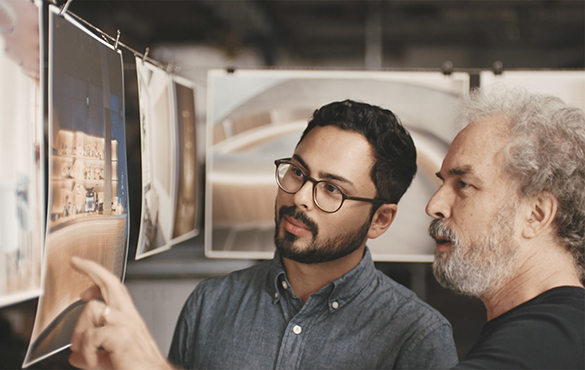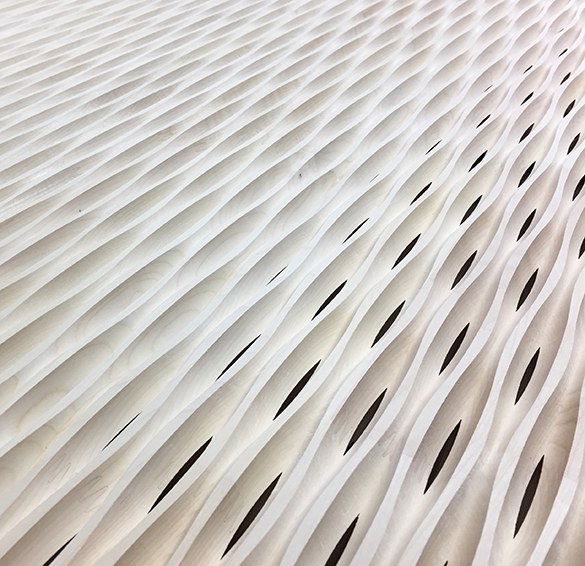 In Conversation with
Dukta
Based in Zürich, Switzerland, the father and son team behind Dukta has been experimenting with and pushing the boundaries of wood - testing the material's stability and flexibility in a decades-long experiment to push the material beyond its traditional form and function.
In 2006, during a training course led by Serge Lunin, Christian Kuhn had the idea to create a lounger made from curved wooden elements. Together they tested alternatives including steam bending and gluing layers together but found that certain arrangements of incisions gave the wood a great deal of flexibility.
Dukta, now run by Serge and Pablo Lunin, works with licensed partners around the world. We sat down to chat with the father and son team about the evolution of their Flexible Wood collection, the significance of sustainability to their work, and the design trends that are exciting them now.
Read our full interview with Dukta below, or scroll down to watch!
Tell us a little about yourself!
Pablo: My name is Pablo Lunin
Serge: My name is Serge Lunin. We're father and son. I am a trained carpenter working as a lecturer at the University of the arts in Zürich for over thirty years.
Pablo: I am a trained Industrial Designer. I have worked with my father on Dukta Flexible Wood since 2014.
Can you tell us about an early design memory?
Pablo: Thanks to my father I had the possibility, even as a child, to play, experiment and build with different materials. I remember building our own skateboard ramps and constructing a 8m high wooden tower in our garden. These are great memories I have about my childhood.
What's your background as a designer?
Pablo: After a three-year generic design training in Basel I studied Industrial Design at the University of the Arts in Zürich. I worked for two years as a designer for different companies before I joined my father at Dukta Flexible Wood.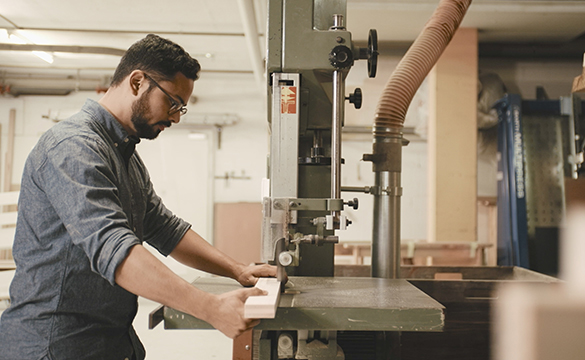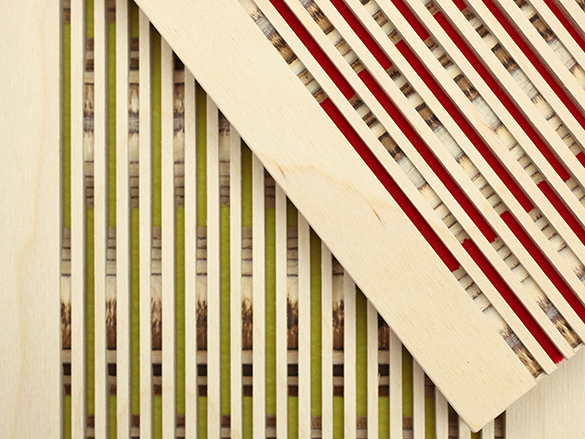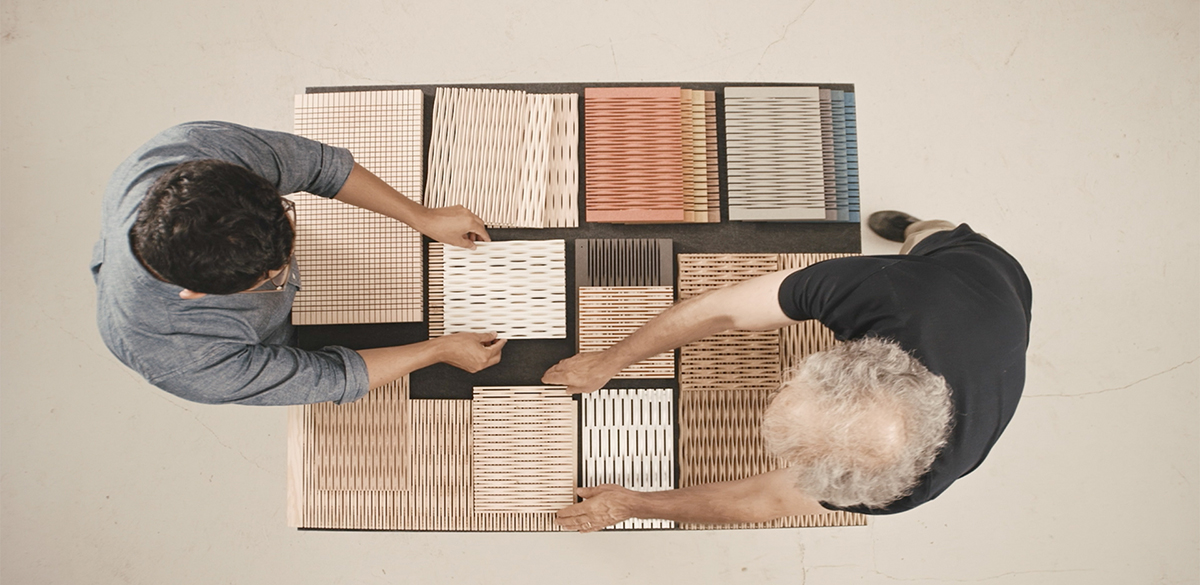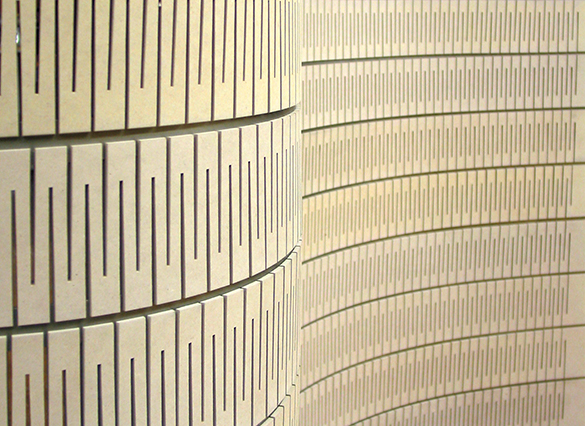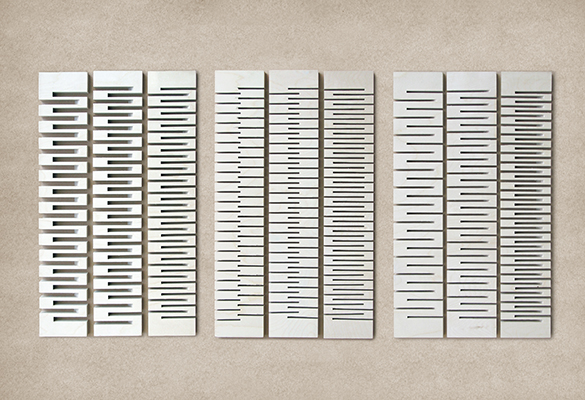 What inspires you and where do you look for inspiration?
Serge: I have been working as a mediator/lecturer in the field of art and design for over 30 years. In my experience, a playful and experimental approach to work with materials can be a great source of inspiration. I try to teach in my courses an open dialogue with the material by simultaneously considering its physical properties. For each wood-type and wood based material the conditions are different. To engage with, considering and testing these conditions can lead to unexpected results.
What are you favorite materials to work with and how does sustainability inform your work?
Serge: Since my carpentry apprenticeship forty years ago, I have worked with wood and it still keeps surprising me. It has amazing properties in different areas which we try to enhance in our work. Wood is a renewable resource and we take great care to use only wood from certified sources and solvent-free processed sheets.
How did Flexible Wood come into being?
Serge: The idea was born in 2006 in an evening workshop, as a student of mine had the wish to build a lounger out of wood. As we hadn't had the possibility to steam bend or layer glue wood in such dimensions, we started experimenting by incising wooden beams. For a certain period of time, we continued working by fitting these incised pieces together, creating flexible sheets (pictured left). Recognizing the continuous incision pattern throughout the assembled beams, the idea arose to perforate full boards by incisions from the top instead of fitting multiple beams together. That leaded to the different flexible wooden boards we work with today.
Serge: We think of Dukta as our playground. Through our experiments and the systematical testing of the different parameters, we push the limits of the material. Applying our system on wooden sheets from thin air-ply to thick 3-layer boards (pictured left and below), we like to push the material's boundaries, always between the poles of flexibility and stability.
Can you provide any sneak peeks of projects you have in the works?
Pablo: Fortunately, we've been able to continue working in our workshop during the Covid lockdown. We have used the time to work on some of our ideas and concepts. For this sample we glued single, incised beams in a ninety-degree angle together resulting a new surface structure and formal appearance. In this next concept, we looked for an application to use our smaller scrap pieces. Three diamond shaped pieces assembled to one hexagon. (pictured right) This could be developed into modular acoustic panel system for the wall or the ceiling.
Serge: For this sample we added two pieces together by removing certain parts and interlaced them with each other. It can still be bent, resulting in new angles and shapes. We have ideas for several applications, but it is still in progress. (bottom right)
Next to the acoustic abilities and the flexibility of the dukta panels, its incision structure can be used to attach hooks and shelf boards. (pictured below) Therefor we developed aluminum hardware fitting perfectly into the wooden grid.
What trends within the design industry do you find particularly exciting right now?
Pablo: The trend towards natural products and sustainability, as well as more awareness for room acoustics, naturally meets our development.
Serge: We hope that many architects, designers and craftsmen will be inspired by our development to create their own products with it or to use our existing products.