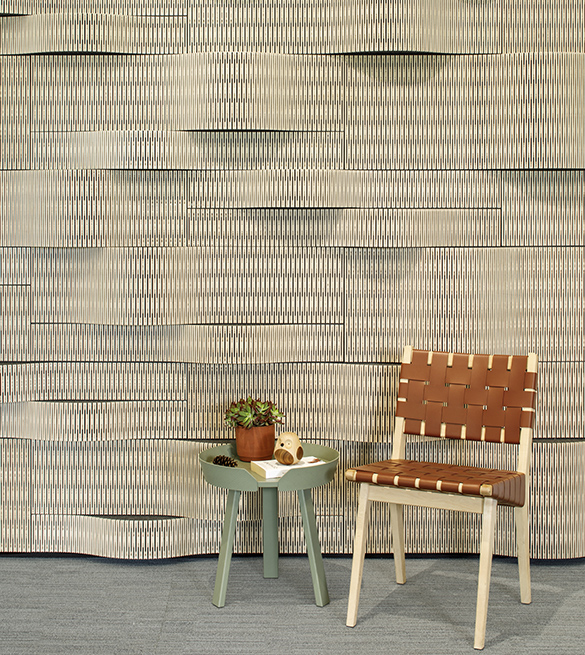 Behind the Design
Wave and Flow
In 2016, German designer Bernd Benninghoff found himself in search of new materials hoping to inspire a new direction and line of product designs. When he discovered the cutting technology behind Flexible Wood, developed by Swiss designers Serge and Pablo Lunin, the and father-son duo behind Dukta, Bernd was immediately intrigued.
With new projects on the horizon, we take a look back at the collection Bernd designed, combining familiar materials with Dukta's Flexible Wood to stunning effect. We chatted with the Mainz-based designer about the evolution of Flow and Wave, the prototyping process, and projects that are evolving in his studio this year.
What feelings do you want this collection (and your work in general) to illicit?
Wood is a material we are all familiar with. It gives exterior and interior spaces a warm, homey atmosphere. Until recently, we have only really known the traditional material as flat wall and ceiling cladding or flooring. "Flexible Wood" allows the material to be used in a three-dimensional, flowing way, giving the material a completely new look. At the same time, however, its cutting technology provides the material with something very clear, technical, and architectural. I was instantly fascinated by this very contemporary interpretation of a well-known material - and I think most residents/users will feel the same way.
Where do you look for inspiration when starting a new project?
My designs are very often material-driven because, for me, the examination of new materials and manufacturing processes always includes the opportunity for innovative product developments. Often these material innovations come from a completely different context, for example, from the automotive, textile, or packaging industry. What then fascinates me is the transformation of the material into interior design and furniture design. Ideas for new products then develop directly from the material and from observing everyday processes and human habits. What qualities does the material possess, and what added value could it generate in the living and working environment? What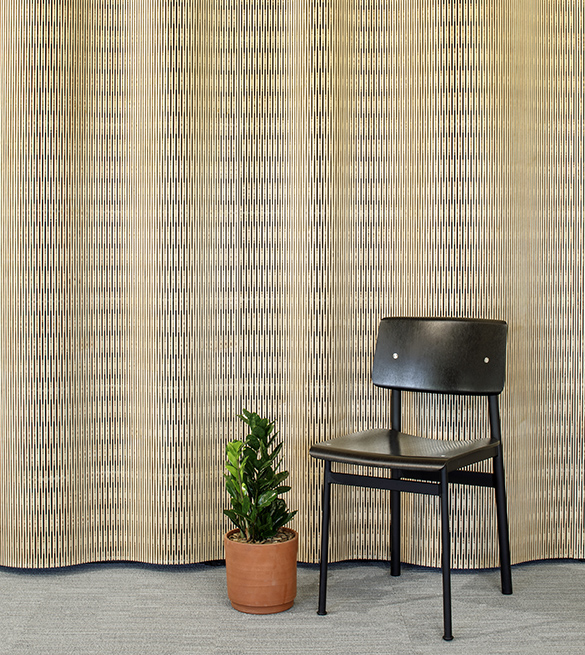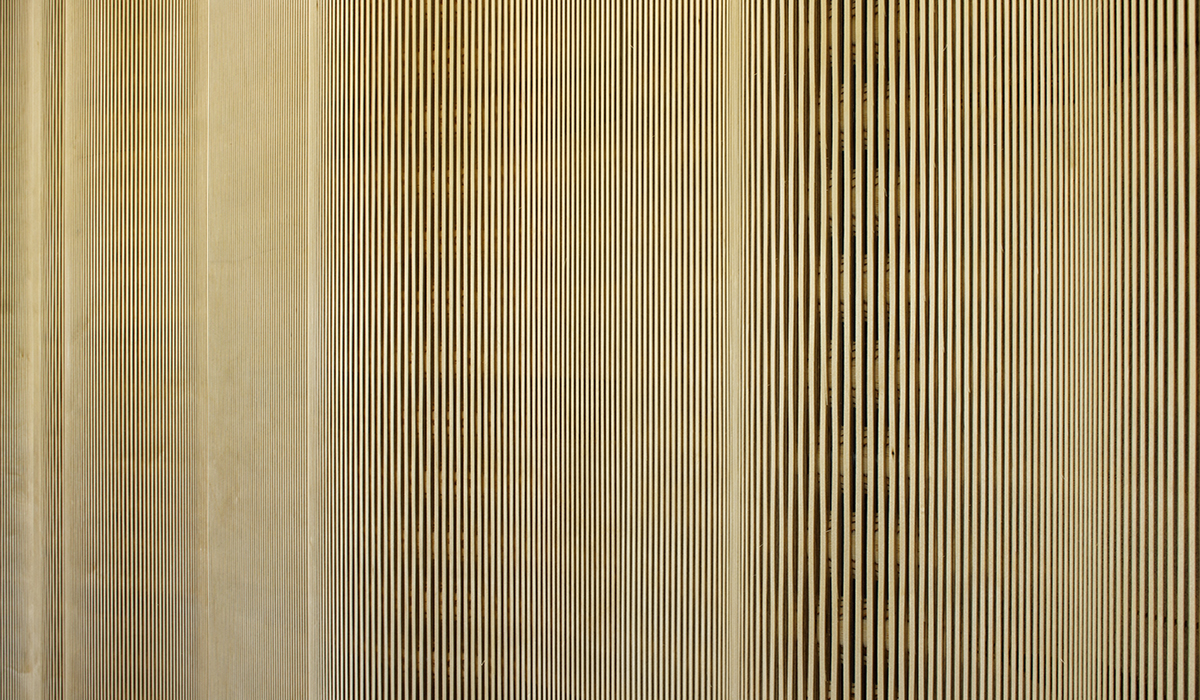 What inspired your collection of Flexible Wood designs?
In search of new materials, in the summer of 2016, I discovered Flexible Wood, which had just been awarded the German "materialPREIS." I was immediately inspired by the cutting technology developed by Serge and Pablo Lunin, which makes it possible to transform standard wood-based materials into three-dimensional objects. Precise cuts and milling provide traditional wood board materials with nearly textile characteristics. Apart from the material's design potential, I was particularly impressed by its outstanding acoustic properties – numerous cuts can enlarge the surface and geometry of the material, thus providing it with extraordinary absorption characteristics.
Can you walk us through the evolution of this project?
In past years, I had already gained a lot of experience with the design and processing of acoustic products made from fiber composite. So, I was interested in combining this material with Flexible Wood and developing a modular system of acoustic wall panels. The two materials complement each other perfectly. The Flexible Wood needs a stable yet light substructure to hold the wavy surface securely in position as invisibly as possible. This base allows the flowing wood to unfold its remarkable spatial effect. In addition, both materials absorb sound, making the modules even more effective acoustically.
After initial sketches, I immediately began building several prototypes. For this, the substructure was first produced in a digital cutting process, joined together, and then covered with Flexible Wood. Afterward, a variety of waveforms and configurations were tested, one after the other. A rather lengthy test run - but that's exactly what fascinates me.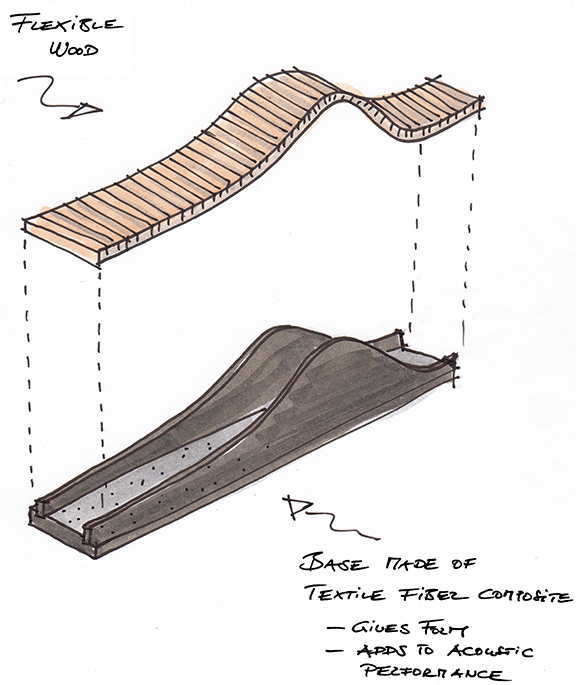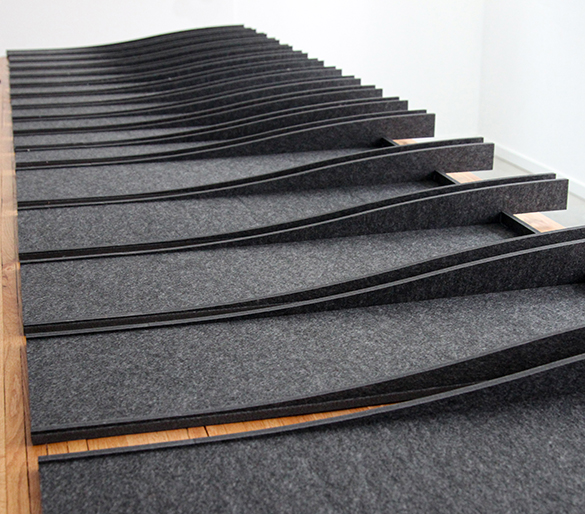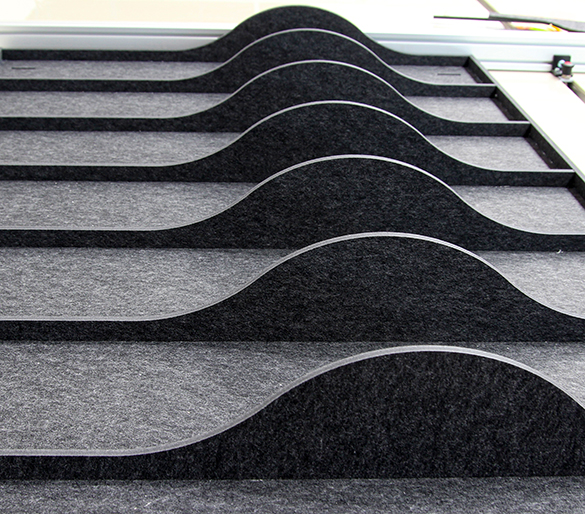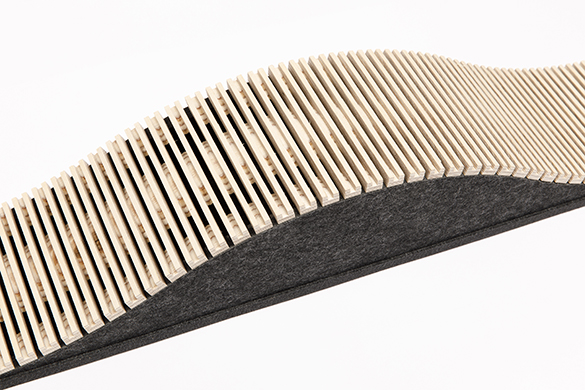 "My designs are very often material-driven because, for me, the examination of new materials and manufacturing processes always includes the opportunity for innovative product developments."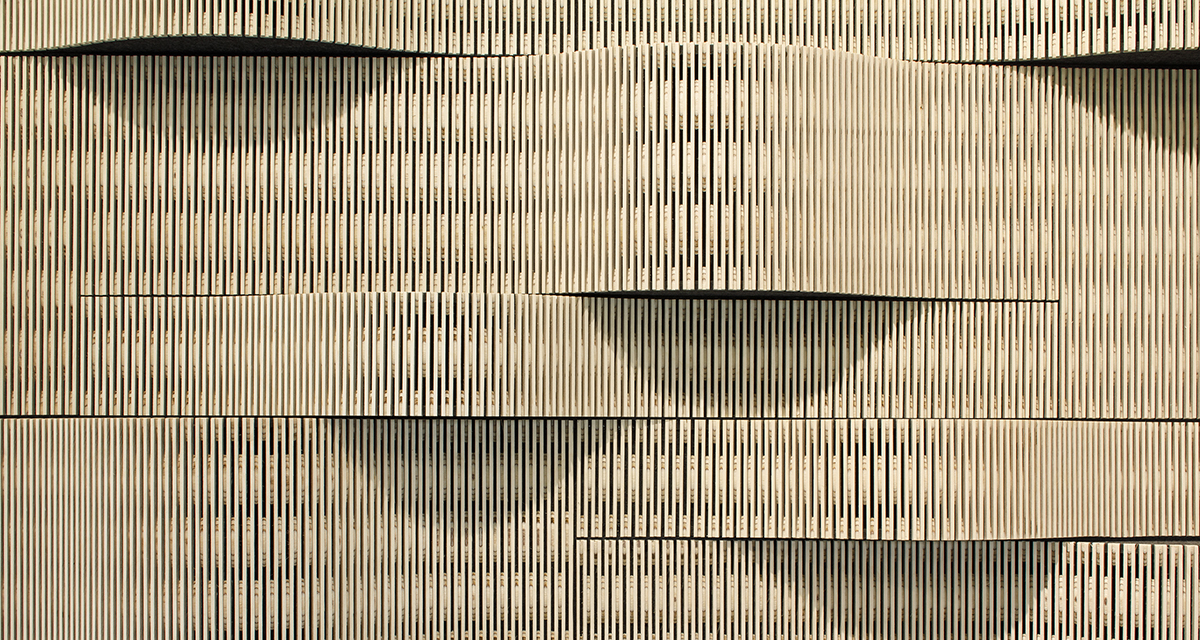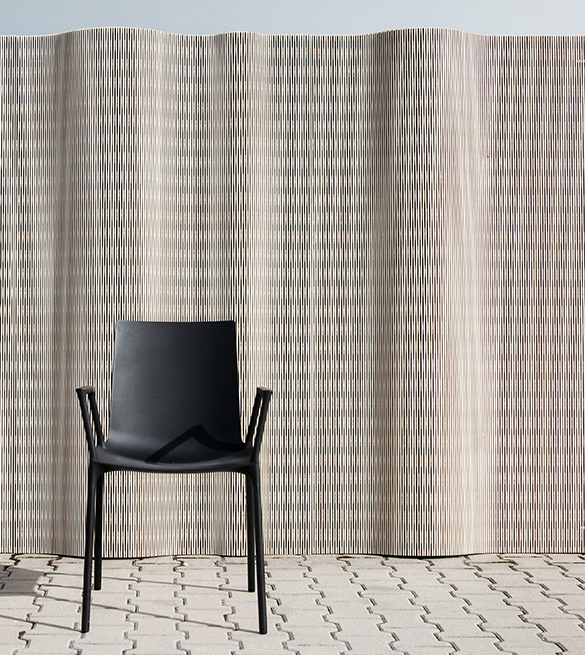 Are there any iterations you can share that didn't work, but led to the final product?
To further develop these designs, I traveled to the US. There I had the opportunity to work directly with the manufacturer on-site for several days, a beneficial and constructive process in which design and manufacturing complement each other perfectly.
When it came to implementation, we realized that specific tight radii were not feasible with every wood and cutting geometry. The solid wood versions, in particular, gave us a bit of a headache. Fortunately, we've got that under control in the meantime.
How do you power through the process when what you're trying simply isn't working?
For me, the design process is also always an exciting engagement with other people from other professional backgrounds. I enjoy this process of developing something together, where everyone contributes their know-how. The challenge for me is addressing the manufacturing, structural, or monetary objections and suggestions for improvement while, at the same time, making sure that the overall design concept is not diluted by these influences. To do this, you have to be flexible and willing to compromise up to a certain point - but sometimes, you also have to fight for the clarity of your own design idea.
What does a typical day in your studio look like?
With my job as a full-time professor at a design university, there is limited time to work in my own studio, but the combination of teaching and my work as a freelance designer is the perfect mix for me. I always look forward to more time for my studio projects between semesters. During this time, I enjoy tackling my own projects, have more time to read, drink coffee, research and sketch. And most of the time, I drop the drawing pencil and computer mouse pretty quickly and get back to hands-on testing of my ideas directly against models. In many cases, I develop a product using 1:1 prototypes in the workshop until I'm convinced of it myself – before I then contact a manufacturer to finalize the design process together with their team.
What are you working on now - can you share any sneak peeks of upcoming projects? What has you excited for the coming year?
I have just developed a new collection of modular wall panels for FilzFelt. Using a special thermoforming technique, I am working on a version of WAVE with a textile surface. The first prototypes already look very promising and I am very excited about the photo production and market launch.
Flexible Wood won't let me go either. To complement WAVE and FLOW in a meaningful way, I am currently concepting a ceiling sail made of flowing wood.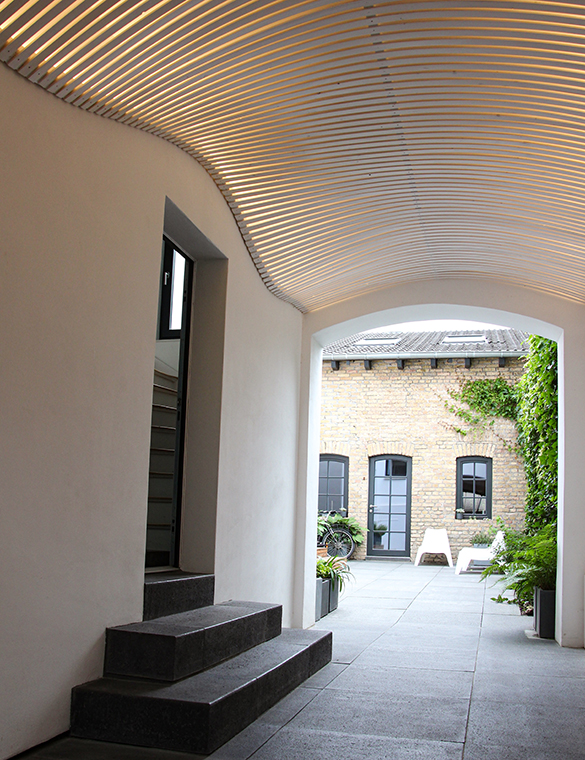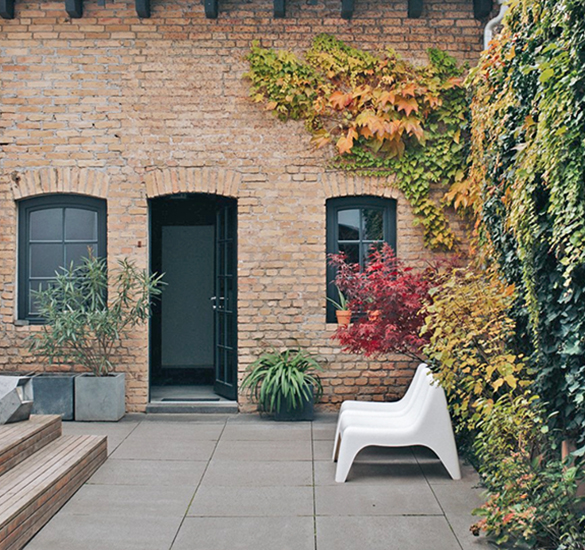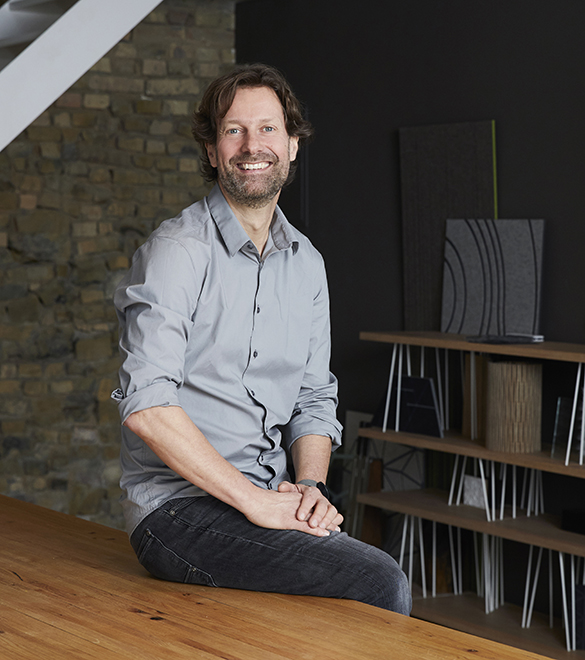 About Bernd Benninghoff
Bernd Benninghoff works as a furniture designer and interior architect based in Mainz, Germany. Since 2000, his design studio has developed serial furniture as well as room and exhibition concepts for international clients. For Bernd, objects and spatial context are interrelated. It is important for him to use authentic materials and appropriate manufacturing processes—in search of meaningful design solutions and room experiences with an independent character.