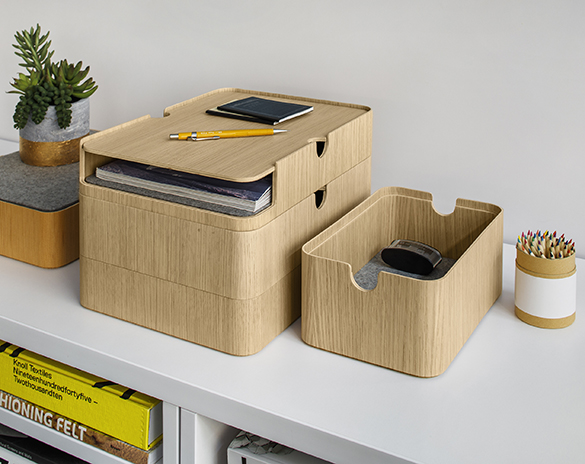 Behind the Design
Multiply
Designed by Norwegian designer Lars Beller Fjetland, Multiply is an efficient but elegant storage system of wood boxes that store, stack, and quietly stand out. The seamless plywood body sits atop a Portuguese cork base and is lined with a sheet of grey German wool felt.
Multiply wooden boxes are handcrafted on Denmark's Island of Funen by a family-owned furniture company implementing a process first developed in 1847 and made famous by designers such as Marcel Breuer and Charles & Ray Eames - molded plywood is made through a process of layering veneers and bonding them together with adhesive and just enough heat and pressure.
We sat down with Lars to chat about the inspiration behind and evolution of this project.
Can you walk us through the evolution of this project?
The project started with a brief from Benjamin Pardo, Executive Vice President and AD at Knoll. He presented me with the challenge of developing a new range of work tools suitable for the modern workplace. It was a challenge that I happily accepted.
One of the first things I realized while doing research was the overwhelming use of plastic within this product segment. There were a few honorable exceptions in metal, but the overall majority were all cheap mass-produced pieces of non-recyclable plastic.
My main challenge became to find an alternative material for my project that could be just as lightweight, precise and functional as any competing products on the market. I wanted to create objects that could age gracefully instead of ending up in the dump after a few years of use in the office.
The idea that products and furniture are consumer goods is a scary attitude that is gaining an increased foothold in the western world. It has become my primary mission to combat this by designing objects that the end user can and will care for, thus extending their lifespans. The most important trend of the future is going to be all about buying less but better, and it seems like more and more influential people and companies are coming to the same realization.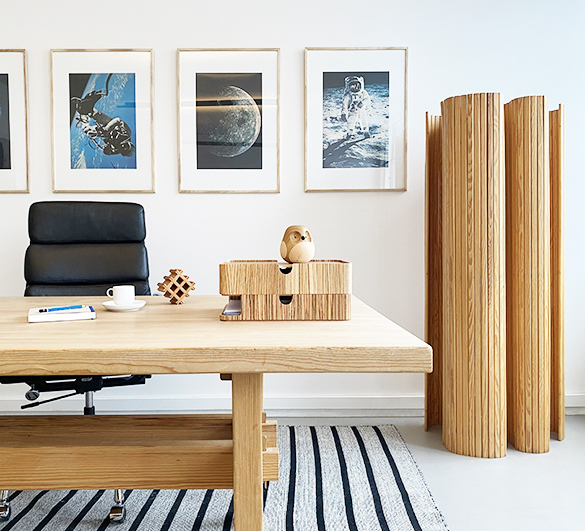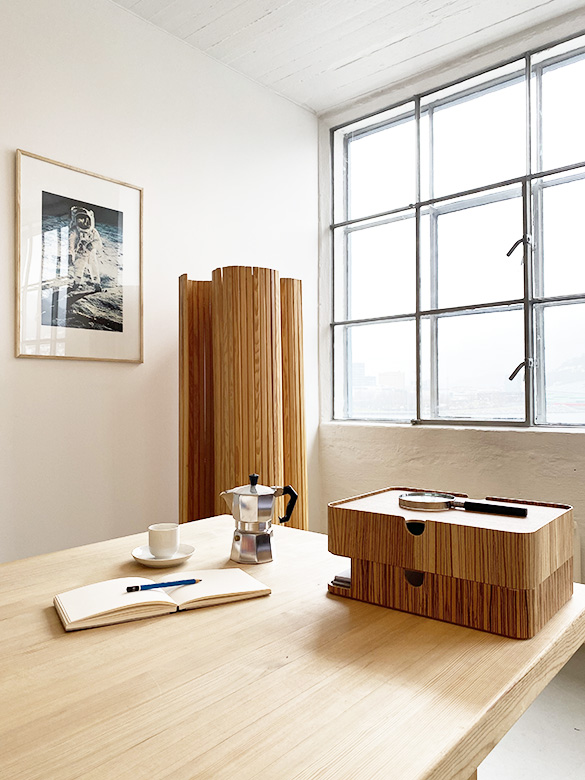 What inspired the aesthetic for the Muliply Box collection?
I really wanted to design something that any worker or end-user would proudly display on their desk, entrusting it to hold and safekeep their private and perhaps most cherished possession.
Another aspect that felt important to me was to recognize and address the need to form our own intimate spaces in a professional sphere characterized by migration and change. A lightweight and nimble solution could follow the worker and not the desk, potentially combating some of the sensation of an unwanted nomadic existence.
The formal language draws inspiration from traditional wooden bento boxes. They're practical, compact and come in many sizes/shapes. I was also heavily inspired by the "Kubus" glass cube containers designed Wilhelm Wagenfledt in 1938. I was smitten by their modularity, stickability and the absence of any unnecessary detailing. They really resonated with the way I create, and this formed the basis for the logic and aesthetics I wanted to pursue
Modularity would be key to make maximal use of a minimum amount of desk top real estate, making the collection a viable option for both contract and residential use. I also wanted to make sure that the pieces were not overly specific to encourage the end user to be creative in how they make use of the various components.
Can you walk us through the process of creating the collection?
I was somewhat familiar with laminated plywood before I embarked on this project, and I quickly came to the realization that this could be a suitable technique for this project. Laminated pieces of wood can be both strong, lightweight which were exactly the key features that I was looking for. To laminate wood you start by stacking thin sheets of wood veneer on top of each other with glue in between the layers. The sandwich is then placed into a heated mould and pressed into the desired shape. The glue sets, and voilà!
This is at least the basics, but to work with unconventionally delicate dimensions and close to zero tolerances I knew we had to partner up with a specialist. This turned out to be easier said than done as it took a lot of effort and more than a couple of personal favors to locate a small family-run company in Denmark that were up for the task.
They were the only ones that didn't shake their heads when I told them about what I wanted to achieve, and it was their "nothing is impossible" attitude that brought these intricate pieces to life.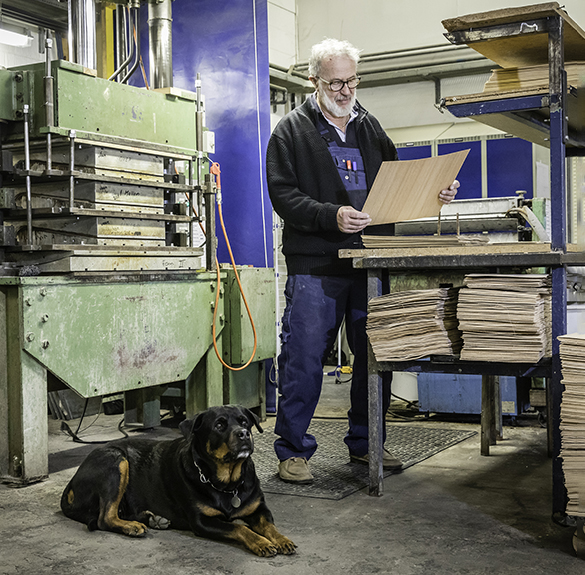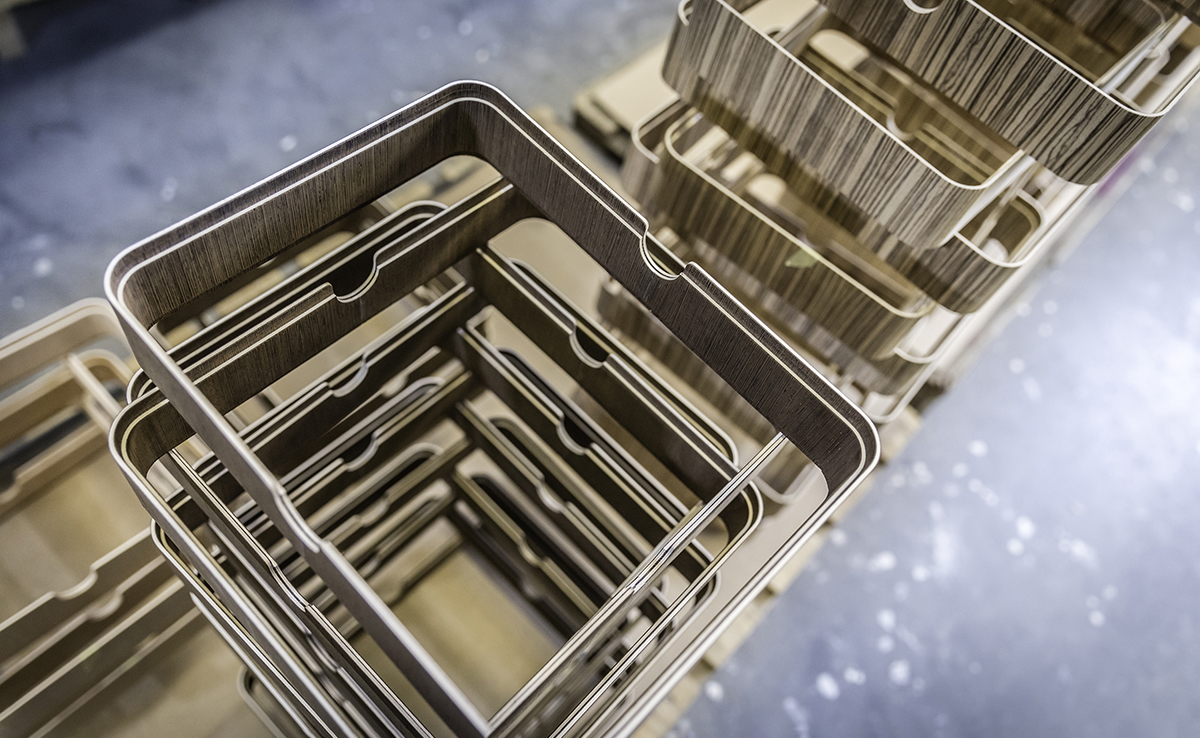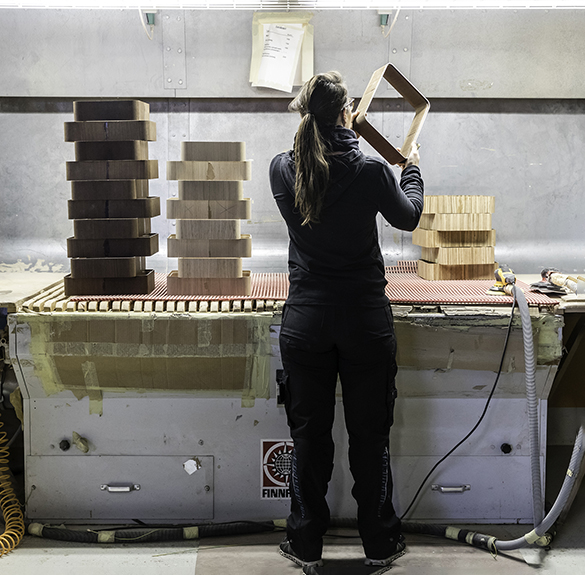 A small but important feature is the thin layer of cork on the base on all the boxes. It acts as soft cushion toward any surface playing an important role in overall noise reduction in the workplace. We also added a generous layer of German wool felt inside every Multiply box to dampen the sound of common objects like keys and coins that tend to end up in this type of storage systems. These are small but immensely important details that are often forgotten or ignored. Our approach towards this project has been, and still is "If we can make it better, we will make it better."
Roger Wall, CEO of Spinneybeck and I had some truly inspiring trips to the factory to oversee the production and to meet other amazing Danish craftsmen and women. I feel confident about the fact that this won't be our last endeavor in Denmark, as we both love the Danes and their unique legacy associated with craft and design.
The boxes were first previewed in 2018 during NeoCon, and they got an amazing feedback from both designers and architects. The Multiply boxes blended in seamlessly with the other Knoll pieces, adding a splash of natural warmth and tactility.
The boxes are entirely made by hand in Denmark with the same quality that has made Danish furniture known across the globe. They're sold exclusively through the Spinneybeck website to ensure that we can offer an amazing quality product to a super competitive price.
Are there any iterations you can share that didn't work, but led to the final product?
The various interactions were all discarded on the drawing board, so there were only minor changes from the first batch of prototypes to the actual end-product. This is the real benefit of 3D modeling, as it allows both you and the supplier to analyze every detail of the design before creating the initial prototype.
The idea of basing the structure on a laminated u profile followed the project from the very first sketch but some of the detailing gradually and organically evolved into what you see today. Form follows function and every ledge, hole or radius serves a specific purpose. The real trick was to organize the various details and features in a way that created a harmonious and beautiful entity.
Another handy tool in my toolbox is my trusted 3D printer which I make frequent use of in the early stages of all product development. So far, I printed everything from full scale seats for chairs and to intricate parts like nuts and bolts. Bringing a physical sample to a product meeting can be the difference between No or Go when it comes to greenlighting funds for tooling and R&D.
If possible I take things one step further by creating my own prototypes that are more or less identical to what will become the actual production piece. Not having any formal training in wood or steelwork has never held me back from realizing a range of intricate designs. Having access to a professional wood workshop combined with a "if you can dream it you can do it" mentality has proven to be a recipe for success.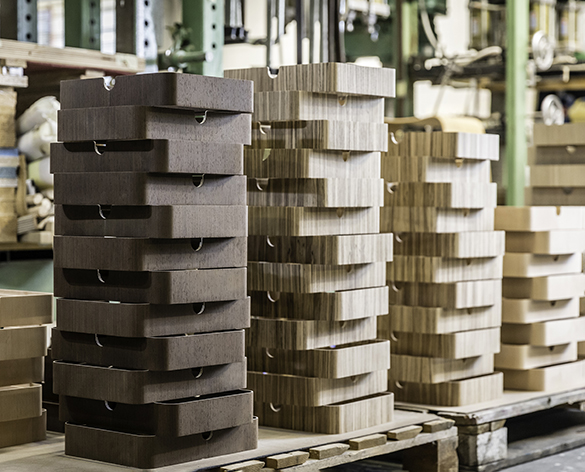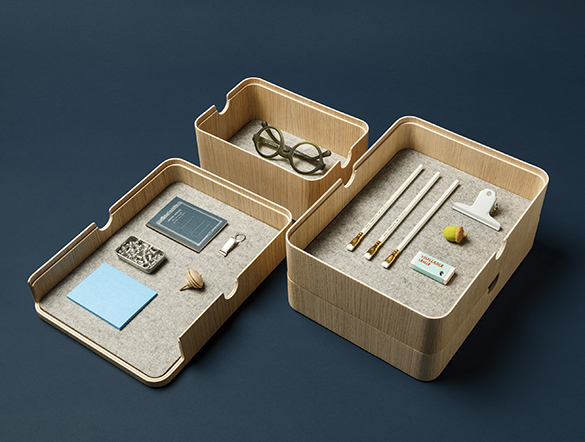 When you approach a new design, where do you start?
I tend to initiate my design processes by studying a specific material or material combination. Materials can gain strengths and beauty from each other, which makes it even more exiting to look for new and unexpected combinations. I thoroughly investigate their properties and inherent qualities and let this set the basis for the rest of the design process.
I exclusively work with natural materials and the main reason for this is because I am fully convinced that it is the most sustainable option in the long run. Natural materials like wood gain beauty as they age, and I believe this is key in terms of increasing the life expectancy of a product. I also aim at operating on the sideline of the everchanging trends, creating objects that have the potential to also appeal to future generations. Long-lived products are sustainable products.
To work exclusively with natural materials was a decision I during my first year studying design. I came to the realization that this had to be the most sustainable approach to product design, as we still struggle to develop good systems to both handle and process inorganic waste. This may change in future, but I still feel like this is the right path for me.
Another aspect of this is how such a limitation affects my design processes. I actually find it liberating to have some restrictions to narrow down the amount of possible directions I can pursue while designing. The concept of being able to design any object, made out of any materials for any client is quite frankly an overwhelming concept. My best projects have all one thing in common; they began as the study on one particular material or technique.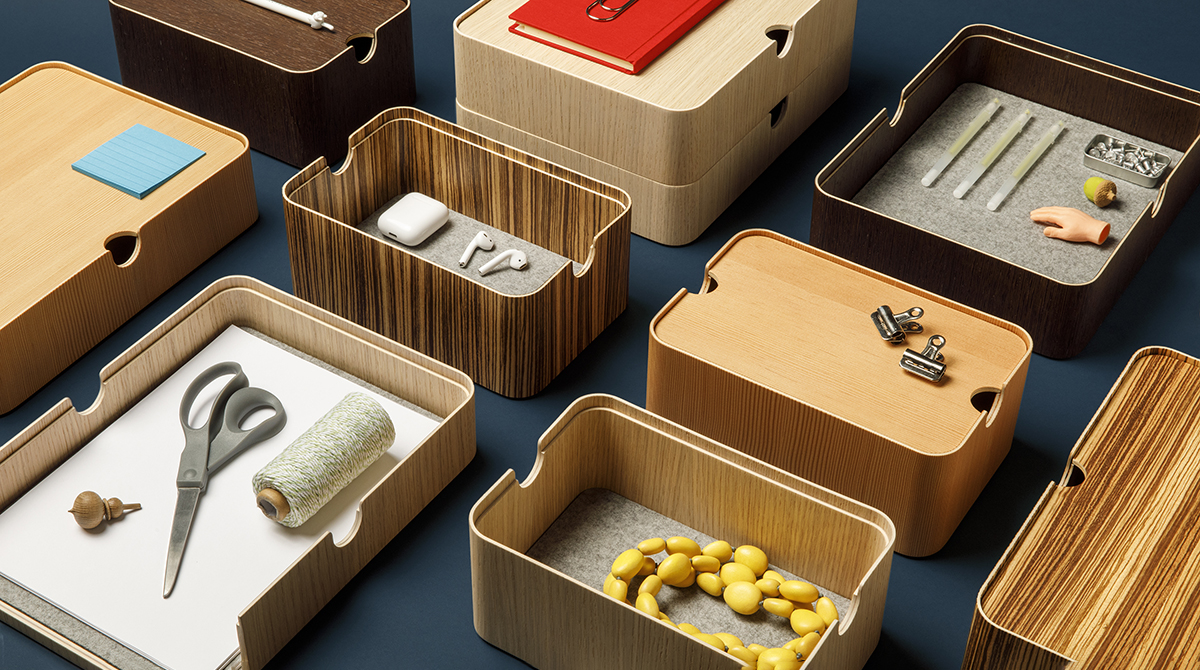 About Lars Beller Fjetland
Lars Beller Fjetland grew up amongst the mountains and fjords of the west coast of Norway, where he nurtured a lifelong fascination of the marriage of function with the finest natural materials. He established his self-titled design office—Beller Design—in 2011 while still a student at Bergen Academy of Art and Design and had his breakthrough moment in 2012 when he launched four designs at Salone de Mobile in Milan, Italy. Lars is constantly seeking to broaden his horizons as a dedicated explorer of form and function. His core philosophy is to design products that achieve a sense of both timelessness and longevity through an immediate, honest functionalism in form and aesthetic.